Live coverage as the restrictions kick in and the search for a source of the latest infection continues. Auckland is now at alert level three, NZ at level two. Get in touch at stewart@thespinoff.co.nz
Top stories:
5.40pm: The Crown the big winner at all-remote Golden Globes
TV editor Sam Brooks reports live from his living room:
The Golden Globe Awards are always a chaotic three hour event, with the booze and celebrity reaction shots flowing equally freely. This year the chaos started before the ceremony even began, with controversy over an ethically dubious luxury junket for voters and the lack of Black nominees this year – leading to the revelation that the 87-person Hollywood Foreign Press Association, which chooses the nominees, includes not a single Black member.
Today's ceremony got off to a rocky start with Daniel Kaluuya initially giving his winner's speech for Best Supporting Actor (for Judas and the Black Messiah) off mic. "You're doing me dirty! You're doing me dirty!" he said, when he finally got to (audibly) speak. From there on, it was fairly muted (ha) event, with veteran hosts Tina Fey and Amy Poehler doing their damnedest to stitch an entertaining ceremony together from a series of live crosses.
The actual awards went more or less as expected, with the three big surprises coming in the best motion picture actress categories: Rosamund Pike for Best Actress in a Musical or Comedy for Netflix film I Care A Lot (which you can watch on Amazon Prime Video here, not Netflix), Andra Day for Best Actress in a Drama for The United States vs. Billie Holliday and Jodie Foster for Best Supporting Actress in a Motion Picture for The Mauritanian (also on Amazon Prime this month). This might be the first year since 2009 where neither Best Actress Globes winner is even nominated for an the Oscar.
In the TV awards, I was stoked to see Jason Sudeikis win Best Actor in a Musical or Comedy for Ted Lasso (an excellent show on AppleTV+ that is tailormade for lockdown), Josh O'Connor take out Best Actor in a Drama for The Crown (which also won Best TV Drama) and Anya Taylor-Joy pick up Best Actress in a Limited Series for The Queen's Gambit.
An especially notable speech was from Taylor Simone Ledward, accepting Best Actor in a Drama on behalf of her late husband Chadwick Boseman for his performance in Ma Rainey's Black Bottom. She captured the grief that a lot of people will have been feeling this past year year, and the very specific grief of having to pay tribute and thanks in place of another person. A weirdly real moment in a genre of show that can often be all concealer and no foundation.
The highlight, however, was Jane Fonda's acceptance speech for the Cecil B. DeMille Award "for outstanding contributions to the world of entertainment". Fonda is an eloquent speaker, and her speech today was a stirring call to action for an industry that still lags far behind in equality and diversity. She called out Hollywood for ignoring "the story we've been afraid to see and hear about ourselves in this industry, about which voices we respect and elevate and which we tune out, who is offered a seat at the table and who is kept out of the rooms where decisions are made." If you're unfamiliar with Fonda's tremendous career, there's no better time to start: I highly recommend the dramas Klute and They Shoot Horses, Don't They?, the comedy 9 to 5, and her early breakout hit Barbarella (but only if you've had a few wines).
Let's hope by the time the Golden Globes roll around again we've forgotten all about Zoom and can watch celebrities be drunk and raucous all in the same room, just as we deserve. A full list of winners is here
4.30pm: Mapping the Valentine's Day cluster
Thus named because the first cases were reported on February 14 (and also known as the February Auckland cluster).
We still don't know the source of the current community outbreak, but the links between the 15 cases (A-O) have been established. Our creative director Toby Morris quickly drew up this handy visualisation to explain how the cluster has developed, including locations where close contacts have been identified, and the newly revealed mode of transmission between House 2 and House 4 (the walk Case N and Case F took together).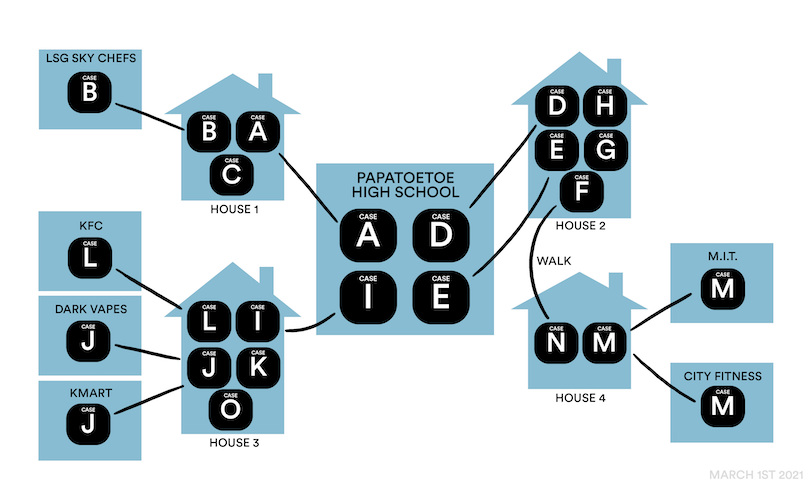 3.00pm: Call out your friends and colleagues who are breaking rules, says PM
Updated
Jacinda Ardern has called on the public to help law enforcement deal with those breaking Covid-19 restrictions. But, the PM hasn't announced any stricter rules.
It comes after the latest community Covid-19 cases – M and N – had direct contact with an infectious family during the recent level three lockdown in Auckland.
Speaking at a 3pm press conference, Ardern acknowledged people will be feeling "upset and angry" after the "multiple rule breaks" by people who should have been self-isolating.
"We have had breaches [before] and we have recovered from them," Ardern said, calling the government's Covid-19 response plan well-equipped to deal with them. "But, we also ask people to follow the rules… quite simply, we cannot do this alone."
She added: "With a full understanding of human fallibility, it is not appropriate and it is not OK for members of the team of five million to let the rest of us down."
Following calls from the opposition for stricter enforcement of the rules, Ardern has asked the public to help ensure people don't ignore Covid-19 restrictions. "Prosecution is a matter for police, not politicians," Ardern said.
Any promises yet to actually check that those who should be self-isolating, are? Systems, processes, procedures reliant on everyone deciding to follow the rules.

— Judith Collins (@JudithCollinsMP) March 1, 2021
"But it's always been my view that New Zealand's success of beating this virus has been based on high rates of compliance and low rates of tolerance for rule breaking because we all understand what's required of us."
Now more than ever, Ardern said, people need to "back and support each other". If that means calling a family member or work colleague out for not following the rules, then we should do that, Ardern said.
"On a larger scale, that could be saying to a family member who should be isolating 'don't go out'."
Ardern confirmed that contact between the two families occurred on the morning of February 15, the day after all close contacts were told to isolate. "Those individuals are facing the full judgement of the entire nation," said Ardern. "There are consequences, undoubtedly." Bloomfield specified that the two mothers went for a walk together.
Asked about the 154 casual contacts at the gym, Ardern said: "We always anticipated that with someone who had a whole week of exposure events and the nature of those venues would mean that there would be larger numbers of people involved."
She added: "No one in cabinet, no minister, no politician, none of us that I've spoken to think that this is tolerable. What has happened here has been a clear breach and everyone is frustrated by it."
Politicians aren't the ones that determine enforcement, she said, calling it inappropriate for a politician to direct the police. "But no one is accepting here that these breaches are OK."
Bloomfield said the family had not indicated why they hadn't disclosed the contact with the new case. "Sometimes people genuinely don't recall every single interaction they've had, they may recall it but not think it important, or they may be fearful," said Bloomfield.
Ardern added: "Not only in this case did we have an instruction around a close contact to self-isolate, we had level three. There's also the guidelines to stay home when you're sick. So with this case here, there were multiple issues that happened."
Case M, Ardern confirmed, had gone through managed isolation.
There are support payments in place for people who are self-isolating, Ardern said, even for those under alert level two restrictions.
Border workers' household contacts to be vaccinated 'this week'
The vaccination programme is rolling out "without missing a beat", said Ashley Bloomfield.
The vaccine roll-out will move onto household contacts of border workers this week – about 50,000 people – which will be followed by frontline non-border health workers. This group comprises around 57,000 people and will begin this month.
All 21 close contacts of case M have been contacted, said Bloomfield. This comprises classmates and teachers of case M. A further 21 casual plus contacts from the cafeteria and student centre have also been identified.
All 154 casual plus contacts from the gym have also been contacted. Bloomfield said the remainder of people from MIT are deemed as casual contacts.
Bloomfield issued a reminder that Covid testing is available at GPs as well as testing centres, which, in Auckland, today had waits of around an hour and a half.
2.45pm: Ardern, Bloomfield, to front 3pm press conference
Jacinda Ardern and Ashley Bloomfield are set to speak at the Beehive at 3pm this afternoon, after no new community cases of Covid-19 were announced today.
Earlier, it was revealed 21 close contacts have been identified at MIT with more than 150 casual plus contacts from a South Auckland City Fitness gym.
Watch below:
2.35pm: Review of vaccine rollout announced
The auditor-general has announced a review of the government's vaccination programme.
The review will:
Assess how well set up the programme is;
Assess how well the associated systems and processes are working to date; and
Identify any areas for improvement so action can be taken.
"We want to provide an independent view to the public and parliament about how the government is planning and managing the Covid-19 vaccination programme," said a statement from the auditor-general's office.
"This review is the first phase of our intended work on the vaccination programme. Later, we intend to look at how the vaccination programme is progressing and how it is being managed, and form an overall assessment of how effectively the vaccination programme has been managed."
The findings of the report will be given to parliament in May.
2.20pm: Let's check in on the Golden Globes
This is all* you need to know from the first award of the night.
my heart stopped seven times watching this pic.twitter.com/3jKcA4muT2

— David Mack (@davidmackau) March 1, 2021
*The only other thing you need to know is Emily in Paris remains a Golden Globe nominated comedy.
1.45pm: No new community Covid-19 cases; testing still under way for contacts of latest cases
Updated
There are no new community Covid-19 cases to report on the second day of Auckland's stint in alert level three, the Ministry of Health has announced.
There is one new case in managed isolation.
Case O – the latest community case reported yesterday – has been in quarantine since February 23, before becoming symptomatic on Saturday and testing positive yesterday. This means that Case O has been in quarantine for their infectious period.
As a result of the early precautionary measures carried out to contain potential Covid-19 spread from this household there are no new associated locations of interest and no risk to members of the public, said the ministry.
Contact tracing for Cases M and N continues to be a focus for public health staff in Auckland. "Their other household members have been transferred to the Auckland quarantine facility," the ministry said.
Contact tracing of the Manukau Institute of Technology (MIT) Manukau campus has identified 21 close contacts of Case M, who are being followed up and provided advice from public health staff regarding isolating and testing.
The dates and times of potential exposure events are on the ministry's website, on the locations of interest page.
"This page also has public health advice for people who were at the MIT Manukau campus at these dates and times. The vast majority of people on the campus at the same times as Case M are considered casual contacts and need to watch for symptoms. They do not need to have a test unless they have symptoms, or are a close or casual plus contact." All casual contacts should be limiting their movements and interactions with other people.
Contact tracing of City Fitness in Hunters Plaza has identified 154 casual plus contacts. This is the venue visited by a confirmed case before testing positive, but after receiving their Covid-19 test.
"These contacts will be followed up by contact tracing teams to ensure that they get a test and stay at home until the test is negative. If you were at the gym on February 20 between 12.20pm – 1.45pm or February 26 between 3.25pm – 4.30pm and have not been contacted then please phone Healthline for advice."
Cases A, B and C – the first from the latest community outbreak – have recovered from Covid-19, the ministry confirmed, and have finished their time in quarantine.
Regular wastewater testing at an Auckland site near Papatoetoe High School continues to report negative results.
The ministry also provided a further update on testing at other locations of interest:
KFC Botany Downs: 11 close plus contacts worked at the same time as Case L. Seven have so far tested negative. All other test results have been negative.
Papatoetoe High School: All close contacts of Case A have tested negative (except for Case D). As of 8am this morning, 1514 out of the 1519 casual plus contacts of Case A have tested negative (Cases E, I and J were, of course, positive). All casual plus contacts have been undergoing a follow-up test on or after February 22; more than 97% of results are back, and all results from the follow-up tests are negative.
Kmart Botany: A total of 33 staff members have been identified as close plus contacts – all have tested negative. The ministry has been contacted by 1,847 people who reported being at the store at the times of interest. They have been provided with public health advice. These people have been asked to isolate for 14 days and be tested at day five and day 12 after their exposure to the case. People who have symptoms will be tested at the appropriate time. Currently, 1,794 people have tested negative.
Dark Vapes East Tamaki: Contact tracing identified a total of seven close and close plus contacts. All people have returned negative results for their day five test.
1.05pm: Ministry of Health to give Covid-19 update
As mentioned earlier, the PM won't be speaking until a 3pm press conference at parliament. However, the Ministry of Health will be sending out an update any minute now. It should provide details on any new cases detected overnight and any new locations of interest.
We'll have that in full for you when it arrives – so keep your eyes firmly glued here.
1.30pm: We're still waiting.
1.40pm: No statement has arrived. I would like a coffee but am too afraid to look away from my inbox.
12.35pm: Call for leave support scheme to be more generous
The Council of Trade Unions is calling on the government to increase its leave support scheme, as it pays below the minimum wage.
As Stuff reported, the scheme pays the wage subsidy rate with the funds going to the employer to pass onto the employee.
So far, just $19.1 million has been paid out – about $100 million less than anticipated.
"These schemes should make workers decisions about staying away from work to protect others as easy as possible – both administratively and financially," CTU policy director Craig Renney. "The minimum wage would certainly be a good starting point. Ideally it would be a living wage."
The support scheme currently pays out $1176.60 for full time workers and $700 for part-time workers to cover the cost of spending 14 days in isolation. A minimum wage earner would get $1512 over a two-week period.
In a statement, the CTU's president Richard Wagstaff said workplaces are a "crucial element" of New Zealand's defence against Covid-19.
"We need to work together so that isolation is not only the right thing to do, but also the easy thing to do. Workplaces must communicate this message so that everyone knows what's expected of them. There should be no disadvantage or penalty of any kind for shielding others from Covid-19," he said.
---
Our Members make The Spinoff happen. Every dollar contributed directly funds our editorial team – click here to learn more about how you can support us from as little as $1.
---
11.20am: All Aucklanders should get vaccine first – Goff
Auckland's mayor is calling for the super city to be first in line for vaccinations, once the public rollout kicks off later in the year.
"Auckland's fourth level three lockdown highlights the fact that the city is at greater risk of community transmission than any other city or region in the country," Phil Goff said today, as reported by the Herald.
"We need the vaccine roll-out to be prioritised in Auckland to help avoid future lockdowns, protect jobs and incomes and ensure Auckland can play its role in supporting the national economic recovery."
Goff said the city is losing an estimated 200 jobs and $30-plus million per day under the current level three restrictions.
While he welcomed the suggestion that South Auckland will get the jab first, Goff said that needed to be extended to the whole city.
"Protecting Auckland will help ensure that we stop the disease from being transmitted to other parts of the country," Goff said, adding that the city houses 18 managed isolation and quarantine facilities.
On the agenda
It's day two of the seven-day change of alert levels and there is going to be a lot of information getting thrown around. Here are the two key timings for today's Covid-19 updates.
1pm: The Ministry of Health will release a Covid-19 update via email. We'll have it published in full not long after it drops.
3pm: Jacinda Ardern and Ashley Bloomfield will front a press conference from parliament. We'll have a livestream here and our highly trained team of speed writers will be filing everything you need to know, as it happens.
Parliament isn't sitting this week so any political updates will be coming from media rounds or scheduled press conferences (or Twitter, tbh). Think we've missed anything? Drop me a message.
9.10am: Government 'both' useless and complacent, controlling Covid-19 'not that hard' – Collins
Judith Collins has called the government "both" useless and complacent after the return of Auckland into alert level three.
Speaking on Newstalk ZB, Collins admitted that while we are doing better than a lot of other countries, "it's not that hard" to control Covid-19.
"[The government] started off with a hiss and a roar [and] got a lot of New Zealanders behind them to help them to perform and then it turns out… that if people don't self-isolate they get told they're a naughty boy or girl and that's about it," the National Party leader said.
Asked who was to blame – Jacinda Ardern or Ashley Bloomfield – Collins placed most responsibility with the PM. "This is Jacinda Ardern's government, she's the one who sets the parameters. She's got a government that's always quick to say 'yes, we're doing well'. We are doing well compared to other countries, but we have a population entirely isolated by an enormous moat and that's only got five million people," Collins said.
"It's not that hard when you've got contact tracing being shown to be able to be used in overseas countries, like Taiwan, and then you have here in New Zealand where people are supposed to be self-isolating at home [and] the Ministry of Health rings them a few times, they're not answering and [the ministry says] that's a shame and puts the phone down.
"Everyone else pays for this incompetence."
Asked whether the government was useless or complacent, Collins said "both".
The Opposition has set out a five point plan to get our Covid-19 plan back on track, with rapid antigen testing at the forefront. Collins said that, were she the PM, Ashley Bloomfield would be well aware of that plan by now.
Five things the govt should do.
1. Rapid antigen testing. 15 min results
2. Rapid roll-out of testing at locations of interest
3. Higher intensity wastewater testing at sub-suburb level
4. Priority vaccinate S Akl
5. ⬆️ monitoring of self isolation and spot checks a la Taiwan. pic.twitter.com/CQjozhG4JX

— Christopher Bishop (@cjsbishop) February 27, 2021
---
Our Covid-19 coverage is funded by The Spinoff Members. To help our journalists stay on top of this and other vital New Zealand stories, please support us here.
---
8.25am: PM expects travel times in and out of Auckland to be 'considerably better' today
The PM said travel times in and out of Auckland should be "considerably better today", following reports of huge queues heading through the road checkpoints yesterday.
As with the previous lockdowns, travel is restricted in and out of the super city. Only those who normally live in Auckland are expected to be in the city this week. Several Spinoff staffers were caught up in the chaos yesterday, with one reporting a six hour trip between Hamilton and Auckland.
On RNZ, Jacinda Ardern said the traffic stops for those heading into the city were to stop "people unnecessarily coming in and out of Auckland". She said just people who are normally resident in the city, or are transiting through, would be allowed to enter.
"We did ask that people choose different travel times to try and allow some of the congestion to subside," said Ardern. "The army were brought in to create more personnel."
In a statement, the police said they were "encouraged" by the response to the alert level changes yesterday morning.
"Police report the public has been cooperative and understanding, we thank motorists for their patience."
7.40am: New Covid-19 case had contact with infected family during level three
Updated
Jacinda Ardern has confirmed a direct chain of transmission between the latest Covid-19 cases and an earlier infected family.
Cases M and N had contact with another infected family under the last level three lockdown in February – an obvious breach of our Covid-19 restrictions. It had not been disclosed to contact tracers.
Ardern told Newstalk ZB the best thing people can do is tell the truth.
"This was a family who was already identified as having Covid and so was part of contact tracing and did not identify that they did have contact with this family," the prime minister said.
"So that means we go back, we reinterview and say 'now that we have identified that this has happened, we haven't had all of your contacts, are there others?' and we do all we can to identify whether or not there's anyone else that there's been in contact with."
Speaking on RNZ, Ardern called today's news "frustrating", but did not yet know why the information had not been disclosed. "I cannot tell you whether or not it was the fear of the fact that it occurred during level three, or lack of memory."
The prime minister would not rule out further repercussions for those who break Covid-19 restrictions – but would not be drawn on what those repercussions could be. She did not believe the actions of Cases M and N to break Covid-19 restrictions were wilful. "We've got a model that acknowledges that humans make mistakes," Ardern said. "Not only do we have a contact tracing system where we interview people and require them to isolate, but we also have restrictions. We've had level three restrictions, a requirement that families isolate, we've had an interview process – and it happens in this case that there have been breaches at both those levels."
Ardern said, ultimately, a decision on repercussions for this particular family will be for the police.
National's Covid-19 response spokesperson Chris Bishop said consequences are needed for those who break the rules as we now know what can happen if people ignore public health advice.
7.30am: Top stories from The Bulletin
If you haven't checked the news, or got the phone alert, or talked to another living soul in the last 24 hours, you might not have heard that the alert levels have changed again. Auckland went to level three on Sunday morning, with the rest of the country back to level two, just a fortnight after the last such move. At this stage, it will last seven days – here are the rules for Auckland, and an updated list of locations of interest. So, what went wrong?
The government is casting this as a case of people not following the rules, with severe consequences. Radio NZ reports PM Jacinda Ardern noted people went to work when they shouldn't have done so, and called on employers to ensure staff who should be self-isolating shouldn't come in. She also asked people not to be aggressive with each other as a result of these cases – our live updates quoted her as saying "I want to acknowledge the frustration I've seen and I've heard overnight, particularly coming, rightly so, from many Aucklanders. No one wants Covid in our community. But we won't beat it by turning on each other." Particular social media frustration has been directed at a man who went to the gym after getting a Covid test, which later came back positive.
Covid-19 minister Chris Hipkins also weighed in on that, in an interview with Stuff that defended the decision to move the country back to level one so recently. "This potentially was avoidable if everybody had done exactly what they are asking to do at the different alert levels and in their different circumstances, but it's clear that a number of people weren't." He also argued that the information in front of the government at the start of the week made a move to level one the best approach – a decision which in hindsight has played out badly, as decisions with an element of risk made with imperfect information sometimes do.
How badly? Many including Ardern have made the point that lockdowns themselves aren't as big a problem as bouncing in and out of them at short notice. Parents and schools are now facing at least another week of disrupted learning. Businesses are now having to upend plans all over again. Events are being cancelled all over the place. Thousands of people faced hours in queues getting in and out of Auckland yesterday, with huge jams at regional borders. These outcomes and the uncertainty that comes with them are all direct consequences of the government's decisions over the last fortnight, and have to be owned as such, even if the government can demonstrate that the decisions are justified.
Should those people who had been in the community while they should have been self-isolating face consequences? I'm personally deeply uneasy about that, and I'll set out my thinking why. Firstly, the people going to work may have had no other economic choice. A Covid-19 Short-Term Absence Payment exists for affected businesses, but to the best of my knowledge it's not clear if any direct financial support was offered to those who worked while they should have been self-isolating. Newsroom's Marc Daalder put it well. If the government wants people to stay home, it should straight up pay them to do so, because under current settings going to work is the rational economic decision. In my view, the government was foolish and naive to not implement something like this in advance.
Moreover, harsh consequences after the fact could deter people from being honest about their movements with contact tracers, which could dramatically limit the effectiveness of the operation. Journalist Dylan Reeve put it well, with a tweet saying "any action that gives people in general an incentive to be dishonest with contact tracers risks far more harm than any one individual's poor decisions." Councillor Efeso Collins, who represents South Auckland, told Justin Latif that talk of tough crackdowns will backfire among a population that has already done more than any other in the country to fight Covid.
So where to now? Yesterday afternoon Ardern said it was "highly likely" that there would be more community cases – by 6.00pm a new case in the cluster was announced, though they were already in quarantine. Modeller Shaun Hendy told Toby Manhire that we'll have a clearer picture by the middle of the week about what case numbers are doing, and whether that suggests there's been transmission between total strangers rather than spread within a network of contacts.
---
Subscribe to The Bulletin to get all the day's key news stories in five minutes – delivered every weekday at 7.30am.