2018 was quite the year, and TV was no exceptions. Sam Brooks is here to round up the year. What went down, who won what, and who came out smiling?
Killing Eve
From my assessment of the show back in July:
"Eight spine-cracking episodes down, I'm willing to call Killing Eve not just the best show of the year so far, but the most fascinating and necessary one. No other show this year has managed to stay as true to its genre – the established jump-scares, kinked grapevine twists and 'who are you working for?' interrogations that every thriller needs to have – while using that same genre to comment on gender and society, and how the two intersect."
Hugo Grrrl from House of Drag
Notably Hugo Grrrl is the first drag king to win a drag reality competition – it's a huge achievement for both drag and the king himself. It's a much deserved one, he was on point throughout the competition and proved that rare combination of factors – a good reality show contestant who actually deserves to win.
From the winner of House of Drag himself:
"I'm still in such a state of shock! I told myself I'd be so proud if I lasted four or so episodes, so to make it all the way to the top is a weird and wonderful dream.
"Drag is for everyone. Anyone can do drag and can do it well and I hope I've proved that."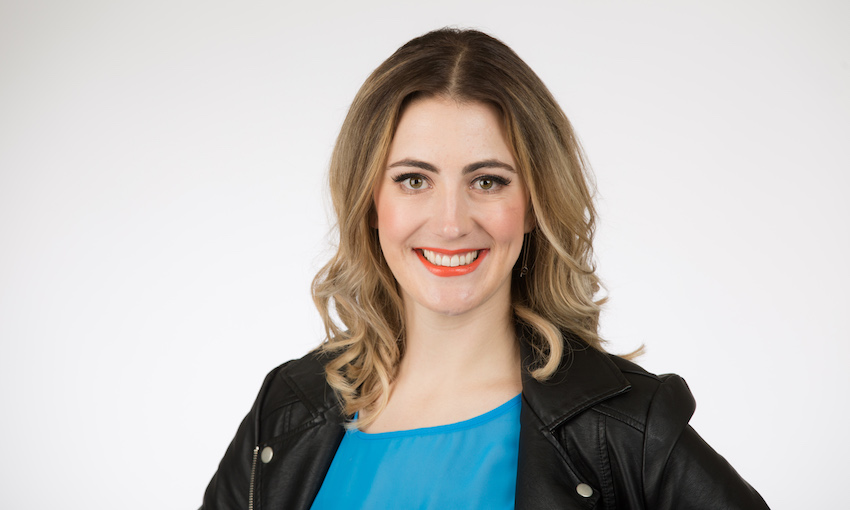 Hayley Sproull
With the announcement of a second season of The Great Kiwi Bake-Off and Pilot Week contender Golden Boy having received funding from NZ on Air, it's hard to think of anybody who has a more solid-looking 2019 than Hayley Sproull.
With the 2018 she's had, she could stand to take a break. Not only did she have a successful comedy festival show, she made a documentary about Polycystic Ovary Syndrome, she hosted The Great Kiwi Bake-Off and turned in a stunning, fully-formed performance in the aforementioned pilot for Golden Boy.
I've been touting Sproull as a star since I first saw her in a duo show with Chris Parker, so to see her really rise this year in so many different ways, and never letting any of these plates drop, has been gratifying and beautiful to watch.
In 2018, Sproully took New Zealand. 2019? The world.
In the winner's own words:
"2018 was a crazy, amazing year. People who hate seeing my face would have had a tough time, because for a moment it felt like I was a rash on TV – just getting everywhere! Between Jono and Ben, The Great Kiwi Bake Off and now the delightful news that Golden Boy is going ahead, I feel very lucky that my mug has in high demand and I have loved every second of it. The trick now is to not get used to it. It can just as quickly be taken away and I'll be back cleaning toilets – true story."
Annabel from The Great Kiwi Bake-Off
You could've picked Annabel as a winner from the very first episode. This 19-year-old baker has a quiet gravitas and competence that I can only describe as Ardernian, with a kindness that I would also say is completely within the brand of our overlady.
Mark my words, by the end of 2019, Annabel will either be ruling us all or we'll be dead by her sugar-covered hands.
Here are some words from the prodigy herself:
"It's incredible to be the first winner of The Great Kiwi Bake Off, but it's also incredible to do it as the youngest contestant. I remember reading something on The Spinoff saying surely someone this young can't win, right? It's amazing to think I am that young, but maybe experience isn't everything. Hopefully it shows if you put your mind to something, you can do it.
Next year, I'm looking forward to learning things I've never done before at Le Cordon Bleu, where I'll hopefully be studying. Things like chocolate sculptures and sugar sculptures – things I can't easily make in my home kitchen!"
Francis from The Casketeers
Duncan Greive, from the new end-of-year Super Pod:
"I thought that the way Francis was – this beautifully groomed, gentle, fussing boss-manager-husband, a new vision of a New Zealand man – and how confident he was in that, in his leaf-blowing. The way that he inhabited his own skin felt inspirational to me, it felt radical, and I was like, this is a special human and the fact that hundreds of thousands of people are seeing this man and the way he is in the world, that's something we could all learn from and aspire to."
Amy Adams in Sharp Objects
The entire show is worthy of praise – constant, ceaseless praise – but I have to spotlight Amy Adams' bruised performance. I won't go as far to say it's her best work, given that I'm a big huge fan of her breakout performance in Junebug, but it's one of the best performances I've ever seen on a television (laptop) screen.
As a show that was about damage, namely the way that women metabolize damage and how that metabolization forces itself outwards, Amy Adams had to externalise the huge damage of a woman coming back to her hometown to figure out the recent murder of a girl. There's the obvious results – the alcoholism, the scars from consistent, brutalizing self-harm – but Camille's damage seeps through every moment of the show. Sharp Objects is an intelligent, brutal show, but it relies on Adams to make it human.
Nanette
It's not often that you hear people talking about a stand-up special around the office, but Hannah Gadsby herself makes the argument that Nanette isn't really stand-up. Whatever it is – people were talking about it.
It was powerful, it was bracing, it made me think about art, and my own art, and what that art is putting out into the world. It's a powerful, necessary statement that shook the world in 2018, and made Gadsby a star seemingly overnight. If you haven't seen it, you need to.
Gadsby says it best:
"Laughter is not our medicine. Stories hold our cure. Laughter is just the honey that sweetens the bitter medicine.
I don't want to unite you with laughter or anger, I just needed my story heard, my story felt and understood by individuals with minds of their own because like it or not my story is your story and your story is my story.
I just don't have the strength to take care of my story any more."
The Handmaid's Tale
From Tara Ward's recap of the season finale:
"You can take the baby out of Gilead, but you can't take the handmaid who really doesn't know when to do herself a favour. It was infuriating, but it was bloody compelling television. May the Lord open a can of whoop-ass for June, because Rita is going to be fuming when she hears about this. June better burn Gilead to the ground next season, but until then: don't let the bastards grind you down."
Alice Snedden's Bad News
I don't think there was a moment on New Zealand television more important than Alice Snedden getting Don Brash to begrudgingly admit that there is value in Te Reo Maori. (It's about 3 minutes in if you watch this clip.)
But beyond this moment, Bad News proved itself as a great investigation into New Zealand society, covering race, gender, class, sexuality and just about everything in a few short episodes. If you're in my friend group – and gross, why aren't you? – then it was all you were talking about for a few months.
You can watch all the episodes online, and you absolutely should do it over the holidays. Hey, your racist uncle might learn a few things, and even your non-racist uncle could learn a thing or two.
You can read our interview with Alice Snedden right here.
Anika Moa, in general
From my review of the second season of Anika Moa Unleashed:
"Nobody gets New Zealand celebrities like Moa does. More importantly, nobody strips back that celebrity like she does. She's game like a deer in the eyes of a rifle, and she's as assured on camera as someone who's been doing it decades longer.
So while the hook for the series might be the people she's interviewing – the show has the likes of Judith Collins and David Farrier coming down the pipeline – the thing that makes it essential is the fact that it's Anika Moa interviewing them. She knows the best way to be watchable is to take the piss out of yourself: she's done it her whole career, and she provides a platform for people to do it. In a country where even our prime minister is a tweet away, she reminds us that we're all bloody humans.
---
Subscribe to Rec Room a weekly newsletter delivering The Spinoff's latest videos, podcasts and other recommendations straight to your inbox.