Set to deliver 100,000 homes in the next 10 years, Kiwibuild is the government's ambitious $2 billion plan targeting first-home buyers. But how is it changing Auckland's wider landscape? 
---
Read more: Eye in the sky: a visual guide to Auckland's housing boom
---
This week, more than 85 potential first-home buyers will be holding their breath to see if they'll be one of the lucky few to move into the country's first Kiwibuild homes. Up for grabs are 12 three-bedroom houses selling for $579,000 and six four bedroom houses selling for $649,000. And while the properties have some less than satisfactory features (a manhole cover in the middle of the yard? Get outta here) the fact they're selling for at least $100,000 less than what they might fetch on the open market probably accounts for a large part of the programme's immense appeal – less than a day after the government announced its eligibility criteria in July, more than 6,000 people had already registered their interest. 
These first homes are located in the Auckland suburb of Papakura as part of the McLennan development. The McLennan development is a 24-hectare site which is being transformed into a new community of around 600 homes. By the end of the year, 12 more homes are set to be completed, bringing the total number of Kiwibuild properties built in Papakura to 30. Another 58 are set to be built at the McLennan site by 2019.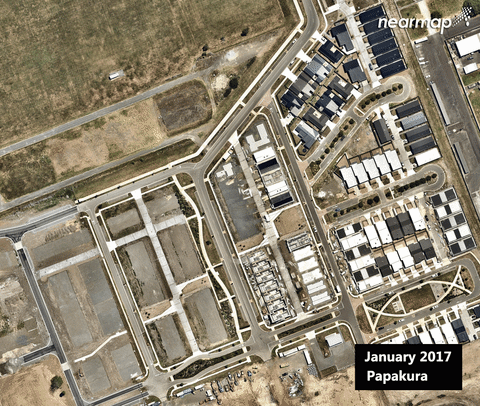 The 18 homes that have since been completed are located on Liberation Road, which Housing Minister Phil Twyford commented as fitting since they'd be giving freedom to families who are currently locked out of the housing market.
Also, if you're wondering what these 'modest family homes' look like on the inside, boy oh boy do we have the video for you  – Mad Chapman was lucky enough to film a very special episode of The Block* last month at one of these humble three-bedroom abodes on Liberation Road.
* Not actually The Block
Over the Harbour Bridge, the North Shore suburb of Northcote has also been subject to a number of big changes. In June, Twyford announced that 400 KiwiBuild homes would be built there as part of a large government housing development. The redevelopment of Housing NZ land initiated by the last government will feature 1200 new homes: 400 state homes, 400 KiwiBuild homes, and 400 market-priced homes.
So far, it's unclear which houses within the Northcote Development will end up being designated Kiwibuild homes. Construction, however, is already at full speed – the 'before' image in the GIF below shows a demolished area of housing from the 1950s and 1960s, while the 'after' image shows a brand new set of houses that have been built in their place. These houses are located along Tonar Street near Northcote Intermediate, Northcote Shopping Centre and AUT's Akoranga Campus.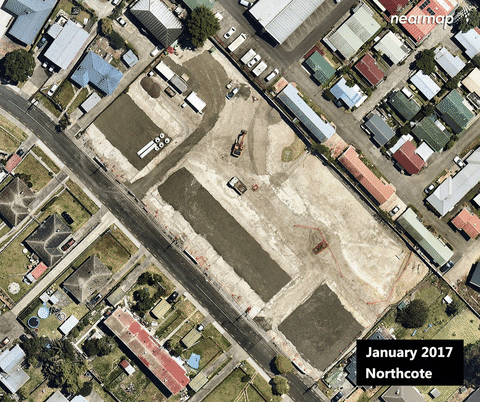 One site that's definitely been earmarked for Kiwibuild's 'affordable' homes is in Onehunga. With construction starting just under a month ago at 340 Onehunga Mall, there isn't a whole lot to compare it with yet. Expect to see a dramatic transformation this time next year though – the plan is to build 25 stylish KiwiBuild apartments which will include six studio apartments priced from $380,000, 12 one-bedroom apartments priced from $490,000, and seven two-bedroom apartments priced at $600,000. Ballots for these apartments are currently open and closes in a few days.
In Mt Roskill, the government is planning to build 10,000 new homes over the next 15 years. This redevelopment will include more than 2,400 KiwiBuild homes, around 3,000 market homes, and more than 3,000 new state homes encompassing the neighbourhoods of Roskill South and Owairaka. Like Northcote, we don't know the exact location of these Kiwibuild homes just yet.
In Mt Albert, the government also has grandiose plans for its transformation. In March, Twyford announced that a sizeable chunk of land at Unitec's Mt Albert campus had been purchased by the government with the intention of building a community of between 3,000-4,000 homes. Around 30-40% of those will classified as 'affordable'. Urban designer Matthew Prasad explains it best in his piece from earlier this year unpacking the details of the Unitec Carrington Development.
Read more: Eye in the sky: a visual guide to Auckland's housing boom