Welcome to The Spinoff's live updates for July 1, bringing you the latest news updated throughout the day. Get in touch at info@thespinoff.co.nz
3.00pm: Record-breaking heat kills hundreds in Canada
A record-breaking heat wave has killed at least 486 people in the Canadian province of British Columbia this week.
On Sunday morning, Canada's heat record had stood for 84 years. A monument in Yellow Grass, Saskatchewan marks the moment when the thermometer hit 45ºC in July 1937. That record was shattered in Lytton, BC on Sunday afternoon. The temperature then kept increasing in the village north of Vancouver for the next two days, setting new records. It topped out at 49.6ºC on Tuesday.
The damage is still coming. On Wednesday evening, Lytton's mayor ordered the village's evacuation as wildfires roared into the small community.
The number of deaths recorded from the heat wave is only expected to increase as new reports are filed with the province's chief coroner. Deaths in neighbouring provinces have not been added to the tally. Hotels have reported a surge in bookings across western Canada, a region with over 10 million people, as residents look to head to places with air conditioning and pools to escape the heat.
The heat dome over the area, compared to a pressure cooker by meteorologists, is now slowly heading east and is expected to break by the weekend.
2.30pm: Woods responds to Hickey on housing and hope
In his podcast and accompanying article on Friday, Bernard Hickey delivered what he called "the ugliest and most despairing column I have ever written". And he's written a few. He described the state of housing in New Zealand and the (in)action of successive governments. Taken together it left him rinsed of hope for younger New Zealanders' chances of owning a home without substantial support from their families.
Bernard's cry from the heart prompted a huge response from readers, and he'll pick up on the theme on his podcast tomorrow morning, looking at how that hope might yet be restored. We also invited the minister for housing, Megan Woods, to respond. You can read that here.
"It's taken many years to get us into this housing crisis and it will take more time to get out of it. There is no quick fix," she writes. "But the steps we have taken will bring about enduring, structural change to the way we plan and build new housing and will remove the boom and bust cycle of housing construction that led to the current problems, and they will make a difference over time."
Here's Bernard Hickey's response to the Woods response: "The minister has done an enthusiastic and comprehensive job of listing the things the government is doing, all of which are sensible tweaks for supply and demand.
"But the real story is in the gaps of what the government is not doing and has ruled out. There is no significant use of the Crown's balance sheet to stump up the $200bn in infrastructure, public transport and housing needed over the next 10-20 years to achieve real affordability improvements and get to carbon zero. There is no mention of taxing wealth or changing expectations that house prices double every seven years. There's also no mention of what the government aspires to achieve in affordability terms. "
To be, it's safe to say, continued.
2.05pm: Jackson reveals next steps for implementing UN declaration
Minister for Māori development Willie Jackson today announced the next steps towards the government's plan to implement the United Nations Declaration on the Rights of Indigenous Peoples (UNDRIP). The announcement was made at Te Whare Waatea, the urban marae in Māngere, Auckland, founded by Jackson's mother, Dame June Jackson.
It follows on from the controversy surrounding the He Puapua report, commissioned by cabinet in 2019 to make recommendations on how Aotearoa should implement the declaration. Both Act and National publicly disparaged its recommendations for more Māori-led governance, calling it "separatism", all before the report had been put before cabinet.
Today Jackson reiterated that "He Puapua is not government policy nor the basis of a declaration plan. Instead it is a starting point for discussion.
"We will report back to cabinet at critical points and expect to have a draft declaration plan for wider public consultation next year."
He said the government will work through a "two-step process", beginning with targeted engagement over the next few months with key iwi and Māori organisations. This will be followed by wide "public consultation with New Zealanders" on a draft declaration plan.
1.50pm: Four bills pulled from the biscuit tin
Political editor Justin Giovannetti reports from parliament:
The great democratic tradition of pulling proposed members' bills from the biscuit tin continued at parliament today. Four lucky bills, laws that might but probably will never happen, were drawn.
Act's Mark Cameron will get to see his bill debated that would remove some agricultural regulations from central government and devolve them to regional councils. Odds of this passing: 1%.
National MP Gerry Brownlee's autonomous sanctions bill will see some life. It would allow New Zealand to set its own sanctions on bad regimes instead of following sanctions applied by the UN. Winston Peters attempted to push through a similar bill in 2017 that ultimately failed. Odds of this passing: 2%.
Maureen Pugh from National has proposed tougher rules on freedom campers and an easier system for punishing scofflaws. Odds of this passing: 25%.
Labour's Tangi Utikere was lucky, with his local government (pecuniary interests register) amendment bill getting the draw. The name seems to say it all. Odds of this passing: 50%.
1.25pm: 97% of Wellington contacts of Australian traveller have now tested negative
A further 78 negative Covid-19 test results returned since yesterday bring the proportion of contacts of the Sydney Covid case who visited Wellington to be given the all clear to 97%, or 2,583 out of 2,673 contacts, said the Ministry of Health.
Of the outstanding 90 contacts, four people have had a swab and are awaiting a result, 19 people have been granted a clinical exemption, seven require no further action, and eight have returned overseas, which means their home jurisdiction will be following up with them, according to a press release from the ministry. The remaining 52 contacts are being "actively followed up by contact tracing teams", said the release.
Meanwhile, the ministry is reporting one case of Covid-19 in MIQ facilities, a person who arrived on June 25 from Cambodia, via Singapore, and tested positive on day three of their stay. Three previously reported cases have been reclassified as under investigation to determine whether they could be historical infections. Since January 1. 2021, there have been 76 historical cases out of a total of 568 cases, said the ministry.
Another previous reported case has now recovered, bringing the number of active cases to 28, and the number of total cases to 2,384. The seven-day rolling average of new cases detected at the border is two.
There were 7,775 Covid-19 tests processed across New Zealand yesterday, bringing the total to date to 2,296,650. The seven-day rolling average is 7,732.
There have been 803,877 scans in the last 24 hours to midday yesterday.
12.15pm: Ardern's 'Karen' quip goes global
The prime minister's line in parliamentary debate suggesting Judith Collins is a "Karen" has burst through quarantine and into international headlines.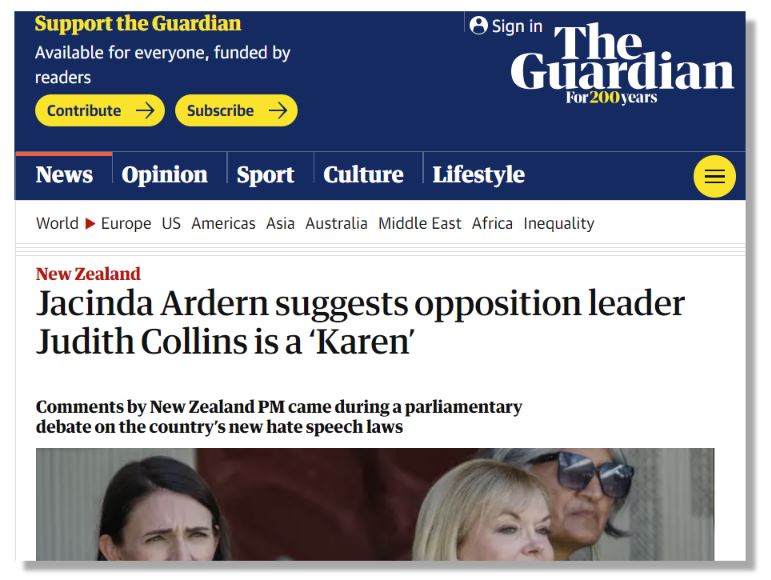 The Karen discourse stems from a tweet posted by Collins:
Will calling a middle-aged white woman a 'Karen' now be a crime under Jacinda Ardern's law? https://t.co/nDiMOU7NLB

— Judith Collins (@JudithCollinsMP) June 29, 2021
Which prompted the following exchange in yesterday's parliamentary question time:
Judith Collins: What is her response to Tova O'Brien who wrote, "Jacinda Ardern is wrong about her own hate speech law. Completely and utterly wrong. Not only is the Prime Minister wrong about the basic facts of the proposal, she [is] wrong to shut down debate on hate speech".

Jacinda Ardern: I also disagree with that statement and I also, as it happens, disagree with the member's statement on Twitter that somehow it will become illegal to call someone a Karen. That is absolutely incorrect and I apologise. That means these laws will not protect that member from such a claim.
A "Karen", as explained by the Guardian, is "a term that evolved on social media, describing a middle-class white woman who behaves in an entitled, pushy, demanding and privileged manner".
A short history of parliament in New Zealand:
24/5/1854: First parliament meets in Auckland.
21/3/2017: Winston Peters calls David Seymour a cuck.
4/11/2019: Chlöe Swarbrick says OK Boomer to Todd Muller.
30/2/2021: Jacinda Ardern calls Judith Collins a Karen.

— Toby Manhire (@toby_etc) July 1, 2021
The Karen theme did not stop there. The Act Party issued the following statement: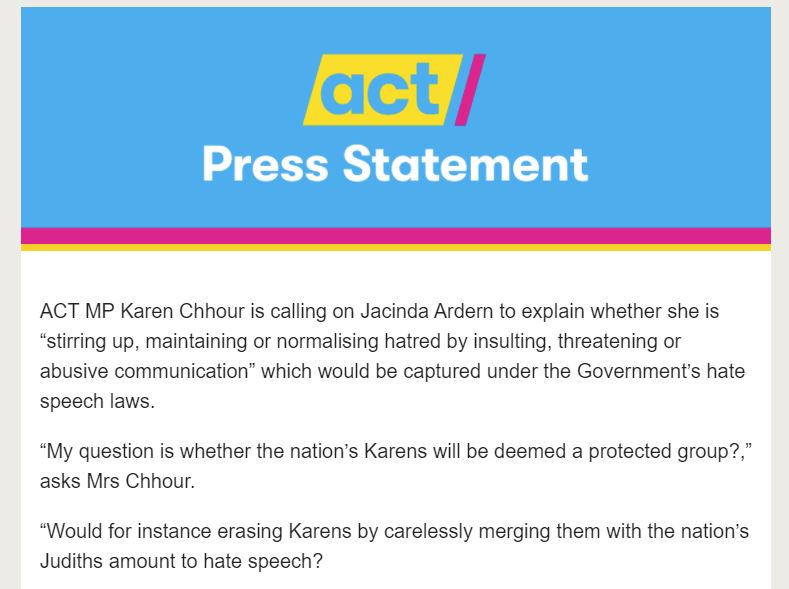 Which in turn disinterred this:
Lol, someone just DM'd me this. pic.twitter.com/oLtZ72PovF

— Neale Jones (@nealejones) June 30, 2021
11.40am: Te Oranga closed for investigation
An Oranga Tamariki care and residence facility has been closed following a damning video depicting mistreatment of children. All staff at the facility have been stood down and placed under investigation, after the initial report from Newsroom.
Oranga Tamariki chief executive Sir Wira Gardiner said in a statement: "I believe that closing the facility while the multiple investigations are underway is the safest option for the children and young people. Closing the facility is not a quick, instant or easy operation. We are already in the process of planning the safe transition of all the tamariki currently staying at Te Oranga to other appropriate care arrangements."
The video showed two particular instances, one involving a child being thrown to the ground, and another involving a child being placed in a headlock. It came to light from a whistleblower who filmed the mistreatment captured by CCTV cameras, who then took it to media.
Yesterday the minister responsible Kelvin Davis condemned the treatment as "indefensible", while fronting up to a select committee. "Oranga Tamariki has made some serious mistakes, and there's no hiding away from them," Davis said. It follows more than a year of controversy for the agency, which has also been in the spotlight for heavy-handed "uplifts" of children from mothers, particularly those who are Māori.
11.30am: Home affordability continues to decline as house prices keep rising
From February to May 2021, median house prices across the country increased by another 5.1% (or $40,000), according to the latest Massey University Home Affordability Report. Combined with a 3% decrease for incomes nationally, home affordability across New Zealand dropped by 6.8%. National house price-to-income ratios also deteriorated, with prices moving from 11.4 to 12.4 times annual wages.
The Tasman region saw the biggest change with median house prices up 13.3% (or $100,000) leading to a 21.9% decrease in affordability this quarter. All but two regions experienced a decline in affordability this quarter with the country's biggest centres – Auckland and Wellington – the only regions to see a slight improvement of 0.6% and 0.9% respectively.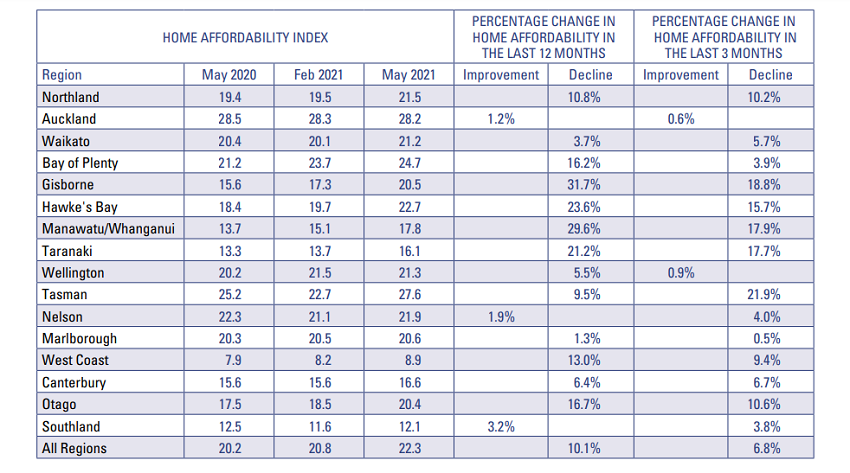 11.00am: Government spending drops as Beehive focuses on deficit
The Treasury's accounts continue to far exceed expectations as new data for the past 11 months shows that the deficit in May was only $3.6 billion, less than half of the $9.4 billion that was expected in the budget tabled that month.
The government's ledger has shown a massive improvement in its revenues over the past year, with corporations and individuals paying significantly higher income taxes than expected, along with a surge in GST from consumers. Overall revenue is up 5% over the forecast for May.
More surprising is the change in the state of accounts compared to a year ago in May, when the country was coming out of its first Covid-19 lockdown. Revenues since then have increased by 12.7%, or $10 billion, while the government's spending is down by $97 million, or 0.1%. The decline in spending is small, but considering inflation of 1.6% over the last year, it indicates that despite all the spending announcements from the Beehive, most government departments have less money this year to serve the public.
10.00am: How many Covid delta cases are there in NZ?
Figures provided to The Spinoff by the Ministry of Health show that 30 people who tested positive for Covid-19 in managed isolation or quarantine in the last three months have been found by genomic sequencing to have the highly contagious delta variant of the virus. This represents around 15% of all cases over the period (excluding historical infections).
The variant is responsible for the recent outbreak in Australia, which has seen around half the population plunged into lockdown and quarantine-free travel to New Zealand paused from most states. It is estimated to be about 40% more contagious than the alpha variant, and almost twice as likely to lead to hospitalisation.
Modelling published yesterday suggested that vaccination in New Zealand would need to reach an inconceivable 97% of the population to achieve herd immunity in the face of delta spread.
9.30am: Dalziel will not seek re-election as Christchurch mayor
Lianne Dalziel will not stand again for the Christchurch mayoralty when her third term comes to an end next year.
"Just over 30 years after first being selected to run for public office, I am announcing that I won't be running again for the office I now hold, Mayor of Christchurch. In so doing I want to thank the people of Christchurch and Banks Peninsula for entrusting me with this role," said Dalziel, who previously sat in Helen Clark's cabinet, in a statement.
She had served as Christchurch's story had turned "away from disaster and onto the opportunities that are always to be found in recovery and renewal" … We have turned a corner, and everyone can see that we are becoming the city of choice for the future," she said.
"Being Mayor at the time of the mosque shootings and standing alongside our Muslim communities was devastating, but also uplifting. The incredible Muslim leaders who spoke of unity, peace and compassion, as well as offering forgiveness, were incredibly moving. The response of our community, measured each morning as the tribute wall grew, became the backdrop to the international news interviews we did every morning. The thousands who turned up at the Call to Prayer one week later sent a powerful message to the Muslim community – 'we have got your back'."
She added: "But we still have issues in our city. There is more to be done. We are not all as inclusive of diversity as most of us want us to be. I want to start a conversation about that before I leave office."
Her statement concluded: "Finally, I want to acknowledge all the people who have backed me, including those who have said they would like me to run again. The reality is the one person that I need by my side to do that, my husband Rob who died last year, has gone. It is time for a new direction in my life. I don't know where this will lead, but I will always be proud of what has been achieved, and the firm foundation for the future that we have built together."
8.00am: Officials tracking down thousands who got free MIQ stay
Thousands of returnees have had a free stay in managed isolation. Officials have been scrambling to try locate more than 14,000 people – or one in four returnees – who provided insufficient contact details before their stay.
According to RNZ's Katie Todd, invoices are typically sent out to returnees 43 days after they leave MIQ, with MBIE's request to move to a "pay-before-stay" system turned down by the government. That's meant that anyone who gave incomplete personal info has missed out on getting a bill.
Waikato University international law professor Alexander Gillespie told RNZ the system was "messy".
"We made an exception to get these people home. We subsidised the cost. We carried the risk to allow them into the country. We should make sure at a minimum, that they pay their fair share. If that means that you've got to change the law or the machinery around it so that people can be tracked and held to account then we should do it," he said.
National's Covid response spokesperson Chris Bishop said there were some people who wanted to pay before their stay.
"You've got some people who've absconded and just aren't paying, and you've got other people who are really keen to pay, but they just find it really difficult because of the way the system works," he said.
7.30am: Top stories from The Bulletin
The four new entities to take control of water infrastructure have been announced, but buy-in from councils is wavering. Stuff's Thomas Coughlan has a very clear piece explaining both what the entities will cover (and why the changes are being pushed for by central government) but also why councils aren't all keen. In more specific detail, LDR Stephen Forbes reports Auckland mayor Phil Goff is concerned with a loss of control after Auckland Council invested billions of ratepayer dollars into Watercare. Star News reports mayor Lianne Dalziel in Christchurch said she doesn't quite see a "compelling case for change". And Stuff's Joel Macmanus reports a wide range of reaction from Wellington region mayors. That's not to mention Whangārei, who have already provisionally opted out – mayor Sheryl Mai responded to the entity announcement last night on Newstalk ZB.
Is there more to council reticence? They will be required to give up power, and perhaps more importantly revenue, if they go ahead with it. Some would argue that councils don't really have the expertise or income to deal with the looming infrastructure bills coming down the pipes, but that could be galling for those councils that have actually kept up with the required investment. On a more personal level, it could result in the pay of councillors going down – our hawk-eyed political editor Justin Giovannetti dug up a paper from the Remuneration Authority that outlines that operational expenditure and council asset ownership are both part of the method by which councillor pay gets calculated, and both would theoretically be reduced by the proposed changes.
Can local government minister Nanaia Mahuta force it through? She has already acknowledged that a patchwork – where say Lower Hutt is in, but Upper Hutt is out – will not work. She also isn't ruling out compelling councils to come on board. Right now the government is still in the stage of trying to persuade, including by telling ratepayers they'll likely end up paying much less on water bills under the reforms. The government has also been spending big on a PR campaign, including attracting criticism for hiring wonderful actor Rachel House for TV ads, reports the NZ Herald's Jason Walls. If the persuasion attempts are still going on by the end of the year, councils might find Mahuta a lot less conversational.
---
It's July 1, so a raft of changes are coming into force today. To rip through them quickly, they include:
Benefit level increases by $20 a week
The start of the feebate for clean emissions cars
New compliance rules on the Healthy Homes Standards
An increase in the rates for paid parental leave
The launch of operations for the Ministry for Ethnic Communities
And quite a bit more besides that.
Read more and subscribe to The Bulletin here
---
Subscribe to The Bulletin to get all the day's key news stories in five minutes – delivered every weekday at 7.30am.