Welcome to The Spinoff's live updates for September 4. You can get in touch on info@thespinoff.co.nz. Help us keep you informed on Covid-19 – click here to learn how you can join The Spinoff Members.
3.45pm: A timeline of the mall terrorist's criminal history
At this afternoon's press conference, the prime minister detailed how the man responsible for yesterday's mall knife attack came to be known to authorities, and the efforts that had been taken to keep the community safe from him. The following information is taken from Jacinda Ardern's speech.
Arrived in New Zealand in October 2011 aged 22, travelling on a student visa. His extreme views were not known at that time.
Came to the attention of police in 2016 after he expressed sympathy on Facebook for recent terrorist attacks, violent war-related videos and comments advocating violent extremism. He was spoken to by the police twice, once in April of 2016, and then again in May.
This activity online continued and in May 2017 he was arrested at Auckland International Airport. Police believed at that time he was heading to Syria.
A search of his apartment led them to discover restricted publications and a hunting knife. He was charged with possessing these things. He eventually pleaded guilty to charges of knowingly distributing restricted publications, fraud and failing to assist police in the execution of their search powers. He was released on bail.
In August 2018, while on bail, he bought a knife. The police arrested him again but also issued a search warrant and found objectionable or extremist material. Additional charges of possessing objectionable material, possession of an offensive weapon and failing to assist the police in exercising search powers were laid and he was kept in custody.
In September 2018, he was sentenced to 12 months' supervision in relation to the first set of charges. He remained in prison due to the additional offences he committed while on bail.
In that same month, ministers directed officials to undertake further policy work on counterterrorism legislation, which included criminalising preparatory acts that might be related to a terrorist intent or plan.
In July 2020, the Crown tried to lay an additional charge under the existing Terrorism Suppression Act for the knife and online posts, but this was rejected by the High Court. The original criminal charges of unlawfully possessing these items were still valid though, so throughout this period he was remanded in custody, awaiting sentencing. During this time he assaulted Corrections officers, and faced charges on these acts also.
In April 2021, a draft bill that would criminalise preparatory acts was introduced to parliament. It had its first reading in May. Throughout this period, officials met a number of times to consider what avenues could be pursued to address the risk posed by this individual, and to prepare for the potential that we may run out of legal avenues to detain him.
The PM was briefed on this work in May 2021. She sought further advice on whether prevention orders could be used, and whether the individual had been psychologically assessed. She was later advised that prevention orders could not be used, that he had refused psychological assessment. At this time work around his immigration status was also under way, but Ardern said she was unable to share it until tomorrow.
In May 2021, he was convicted in the High Court on the charges of possession of objectionable publications with knowledge and failing to assist the police in exercising search powers. He was found not guilty of another charge of possessing objectionable material, and of the charge of possessing a knife in a public place.
On July 6, he was sentenced to 12 months' supervision with special conditions.
At the time of sentencing, he had spent around three years in prison on remand. He remained in custody, but given all legal avenues to continue his detention had been exhausted, officials prepared for his release. Risk mitigations, including surveillance coverage, were already under way.
In mid-July, he was released into the community, and the surveillance began immediately.
In late July the PM was given a written update on the case.
On August 9 she met with officials and discussed further options to reduce the risk this person posed to the community.
In late August officials, including the commissioner of police, raised the possibility of expediting the amendments to the counterterrorism legislation. Within 48 hours, the minister of justice contacted the chair of the select committee with the intention of speeding that law change up. That was yesterday, the same day the attack happened.
2.45pm: Latest community Covid-19 cases by age
Sixty-four percent of cases in the current community outbreak are aged under 30.
2.05pm: Seven people were injured in mall attack, three remain critical – PM
Seven people were injured in yesterday's terror attack at LynnMall in Auckland, the prime minister has announced. Five remain in hospital, three in a critical condition, while the other victims have been treated and are recovering at home. The seventh person injured was only identified today – they narrowly missed being stabbed, but were injured by the knife and self-treated at home.
Police commissioner Andrew Coster has revealed surveillance officers were not following the attacker around the supermarket, but were waiting at the entrance. CCTV footage has shown the first stabbing took place 60-90 seconds before the attack came to the attention of the police performing surveillance on the man, said Coster.
There was nothing unusual about the subject's routine as he travelled by train to LynnMall, said Coster, and some of his behaviour that day suggested he was preparing for the future.
He said the man had demonstrated a high level of paranoia about surveillance, and because of current Covid-19 restrictions affecting supermarkets, other people in close proximity become much more obvious.
He arrived at the supermarket at 2.27pm and surveillance officers observed him take a shopping trolley and shop normally for 10 minutes. Surveillance staff were not able to move around the supermarket with him, remaining at the entrance.
"There is already much misinformation circulating about yesterday's events," said Coster. "I'd ask the public to exercise careful judgement about what they believe and the sources of information they select. It is an unfortunate reality that events like this lead to much inaccurate information and speculation being fed into the public domain, especially online.
"I wish to make clear that this incident should not give rise to undue concern among the public. This case is an outlier, and we are not looking for anyone else in relation to yesterday's events.
"I want to be clear that cases of this type are highly unusual. While there are many people with concerning ideology, very few of them reach the highest level of concern and of those, it is this case that had caused us the greatest concern."
Ardern said there were issues relating to the offender's immigration status and actions taken by Immigration NZ that she was unable to share, but she hoped to share other details within 24 hours.
"I am unable to share his name but this is not something I had any intention of sharing regardless," she said. "No terrorist alive or deceased deserves to have his named shared for the infamy they receive."
Government had tried to speed up changes to counterterrorism law in recent days
The man responsible for yesterday's knife attack was released into the community in mid July and the surveillance began immediately, said the prime minister. Ardern met with officials to discuss further options to try to reduce the risk this person posed to community, and in late August the commissioner of police and other officials raised the possibility of expediting amendments to counterterrorism legislation. Yesterday, within 48 hours of the discussions, the justice minister contacted the chair of the select committee with the intention of speeding up the changes, said Ardern.
2.00pm: Watch: PM and police commissioner speak to media on terror attack
1.50pm: New Zealand's declining community cases, in graph form
1.15pm: Woman in her 90s dies with Covid-19; 20 new cases in the community
The first death of the outbreak has also been confirmed, a woman in her 90s who died in North Shore hospital who was a confirmed case. The woman had a number of underlying health conditions.
"Every death is a reminder of the damage Covid-19 can cause when it gets into our community," said the prime minister, Jacinda Ardern, in the statement.
"Our older New Zealanders and those with underlying health issues are by far the most at risk from the virus and one of the reasons lockdowns are such an important tool to stop its spread."
Director general of health Dr Ashley Bloomfield said: "On behalf of New Zealanders, I want to recognise this family's loss. This is a time for us all to offer our deep sympathy, while also respecting the family's privacy."
The woman's underlying health conditions and the state of her health meant it was not clinically appropriate for her to receive ventilator or ICU care, said the statement. Her whānau was regularly updated and had the opportunity to speak with her regularly by phone. The whānau has been offered cultural support by the DHB.
The woman was admitted to hospital on August 28 from home. She was a household contact of a case and had been confirmed as a case before admission to hospital.
The woman's whānau has issued this message: "The whānau is devastated and shocked by the loss of their loved one and wish to thank all of the essential workers who have guided and helped them over the past few days."
A family member spoken with this morning urges everyone to take Covid-19 seriously and follow public health advice, said the statement. His message for New Zealanders is simple: "This is real."
Case numbers continue to fall
Case numbers in the community delta outbreak continue to fall, with 20 recorded today, reports the Ministry of Health. All of the new cases are in Auckland and 30% were infectious in the community. Four of today's cases are yet to be epidemiologically linked to the outbreak.
Today's cases bring the total in the current outbreak to 782, with 765 of those in Auckland and the remainder in Wellington, including 54 cases who have recovered.
There are 43 people in hospital with Covid-19, all in Auckland. Ten of those are in North Shore hospital, 18 in Middlemore and 15 in Auckland City Hospital. Seven people are in intensive care.
In the past 24 hours, there were 11,037 Covid-19 tests, 5,322 of them in Auckland. "We need to maintain high levels of testing across Tāmaki Makaurau to give us confidence that we have the outbreak under control," said Bloomfield in the statement. "And for anyone, anywhere in the country, if you are a contact, have visited a location of interest at the specific dates and times or have cold and flu symptoms, please get tested."
There were two new cases identified at the border, both who arrived from the Philippines via Australia and tested positive on day one and day two respectively.
12.45pm: Both major supermarket chains removing knives from stores
Following yesterday's terror attack at LynnMall Countdown, the supermarket chain has released a statement saying all knives and scissors have been temporarily removed from its shelves "while we consider whether we should continue to sell them".
"This is in no way a reflection on our customers, but an act of support for our team," said the statement from Countdown's general manager of safety, Kiri Hannifin. "We want all of our team to feel safe when they come to work, especially considering the events of yesterday."
Foodstuffs, which owns the New World, Pakn'Save and Four Square brands, has followed suit, with head of corporate affairs Antoinette Laird telling Stuff: "While we consider the event and take some time to review the safety of our customers and staff, Foodstuffs stores have removed sharp knives from sale."
12.30pm: How the weekend papers covered yesterday's mall attack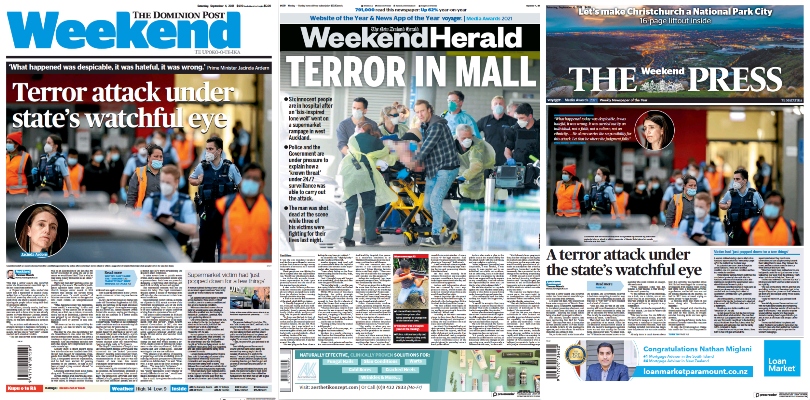 The weekend editions of Stuff's two big dailies, The Dominion Post and The Press, led with this story by Thomas Manch, detailing what the government knew about the man responsible for yesterday's knife attack. Manch writes: "The difficulty for the government is that, after the Christchurch mosque terror attack, it was given a roadmap to improve the counter-terrorism response. And that roadmap included new laws that might have imprisoned the terrorist months ago."
The Herald, meanwhile, went for a simple three-word splash: "terror in mall". Tom Dillane's lead story (now updated online) focused on accounts of witnesses, the attacker's background and the government's response.
12.10pm: Islamic Women's Council: 'We are confident that New Zealanders will come together to respond to hate'
The Islamic Women's Council of New Zealand has issued a statement in response to yesterday's attack: "Our thoughts are first and foremost with the victims of this tragedy, we pray for their full recovery. We know this tragedy
has wide and lasting impacts, on the families of the wounded and those present. We stand in solidarity with victims of violence," said the statement.
"The people of Aotearoa New Zealand came together in an exemplary way after the attacks on Christchurch mosques. Our response was a considered a model globally. We are confident that New Zealanders will come together again to respond to hate, in whatever form it takes. Stereotyping or targeting particular communities causes harm."
The statement asks people to check in on their neighbours, who may be feeling unsafe.
"We thank the leadership of this country for their strong response to the incident, and also first responders and those on the scene. We expect that all leaders will act to secure the safety of all New Zealanders," it concludes.
12.00pm: Another name suppression order lifted; family of mall offender informed at 11pm last night
Further to last night's High Court ruling (see 9.20am update), another urgent hearing was held at Auckland District Court this morning in relation to the perpetrator of yesterday's terror attack at LynnMall.
Stuff reports that the man was facing a charge of assault and injuring with intent to injure in relation to an incident in 2020. Crown prosecutor Brian Dickey indicated he would be seeking a stay of the District Court charges by the solicitor-general. Judge Peter lifted the man's suppression on the same basis as Justice Wylie ordered at the High Court.
The family of the man were not informed until 11pm on Friday, his lawyer Davoud Mansouri-Rad said. Mansouri-Rad told the judge he has informed the family via email and is awaiting instructions.
Justice Wylie gave the family 24 hours to file opposition to his order to lift suppression, which will expire at 11pm tonight.
11.30am: PM to speak to media on mall attack at 2pm
The prime minister's office has confirmed Jacinda Ardern will hold a press conference at the Beehive at 2pm about yesterday's knife attack at LynnMall Countdown. We'll bring you it live here.
10.15am: Givealittle page set up for mall attack victims by Islamic Council of NZ
The Islamic Council of New Zealand has set up a Givealittle page for the victims of yesterday's knife attack at the LynnMall Countdown.
"We stand in unity with our Kiwi whānau to support the victims of the Lynn Mall ISIS-inspired terrorist attack that took place on Friday September the 3rd 2021," says the page. "Please donate generously to help the families of that have been affected by this terrible crime."
New Zealand's Muslim community has condemned the attack. Speaking to Kim Hill on RNZ's Saturday Morning, Abdur Razzaq Khan of the Federation of Islamic Associations said it had resurrected feelings of sadness about the March 15 attacks. "We are mindful of the Countdown staff and bystanders who would be experiencing a lot of trauma, and that takes time to heal," he said, adding that the trauma had lasted more than two years for victims of the Christchurch shootings.
He also reiterated that the Muslim community had nothing to do with this attack, and asked for responsible reporting. "We are aware of the major role of the media and social media in responding to this … the media itself, as they did after March 15, need to give a balanced report and not raise the temperature.
"We have to focus on the fact that this was a lone actor."
9.30am: Multiple supermarkets among locations of interest
Multiple new Covid-19 locations of interest were added to the Ministry of Health's list this morning and last night, among them many supermarkets. More recent locations include Countdown Three Kings on the afternoon of Tuesday August 31, Countdown Botany Downs on the morning of Saturday August 28, and Pakn'Save Lincoln Road on the evening of Friday August 27.
There are also two laundromats, one in Onehunga and one in Papatoetoe, on the evening of Monday August 30.
Gilmours Manukau has also been added for the afternoon of Wednesday August 25, Pakn'Save Clendon for Sunday August 22, Pakn'Save Manukau for Saturday August 21 and Pakn'Save Westgate for Friday August 20. Pakn'Saves in Sylvia Park, Manukau, Royal Oak and Mt Albert were also added for the first few days of alert level four.
A Wellington location was also added this morning – Pakn'Save Kilbirnie for brief periods on August 18 and 19.
Earlier this week, director general of health Ashley Bloomfield said 40 supermarkets would be added to the locations of interest out of an "abundance of caution".
The health advice for what to do if you've been at the above locations of interest at the relevant times varies, so keep an eye on the official list.
View our interactive, searchable map of all the locations of interest here
9.20am: Name suppression lifted, but mall attacker can't be named yet
A judge has lifted suppression orders around identifying the man who was shot dead by police after yesterday's knife attack at LynnMall, but a 24-hour delay means he can't be named until tonight at the earliest.
The 24-hour delay is to give the man's family an opportunity to seek suppression orders of their own, reports Jared Savage for the Herald.
Justice Edwin Wylie made the ruling late on Friday night after crown solicitor Brian Dickey sought to revoke the non-publication order. It was put in place by the same judge following the man's sentence hearing after he pleaded guilty to possession of restricted material.
The reason for the suppression order granted in 2018 also cannot be reported yet.
9.00am: National supports speeding progress of antiterrorism law; calls for violent offenders to be stripped of citizenship
"National believes if you commit a dangerous crime then you should not get to keep your citizenship or residency. It is a privilege, not a right," said National leader Judith Collins in a press release.
"I am offering National's support to work constructively with the Government to make this change.
Collins said she had also been in touch with the prime minister to confirm National would support progressing the new counterterrorism legislation through parliament urgently.
"It was a gap in our counterterrorism law which meant this man couldn't be prosecuted because the courts ruled preparing a terrorist attack was not an offence."
When questioned about the inadequacy of terrorism legislation by RNZ's Kim Hill this morning, Collins said she could not comment on decisions made eight years ago when she was justice minister.
In 2013, Collins struck a review of the Terrorism Suppression Act off the Law Commission's work programme, saying "there does not appear to be any substantial or urgent concerns arising from the operation of the act".
She told RNZ it was "really unfair" to ask her about decisions from eight years ago, and it would have been made by the cabinet at the time following consultation.
8.50am: Late opening for all Countdowns
Countdown announced last night that its supermarkets around the country would stay closed until 10am today. A statement on the Countdown Facebook page said, "Our whole team will be deeply affected by what has happened, and we want them to have a chance to talk and to get the support they need. We know that customers are very reliant on our stores at the moment, but hope they understand that tomorrow morning especially, our team has to come first."
8.30am: Crown seeks urgent lifting of suppression orders around attacker's identity
Last night, a spokesperson for the prime minister said the Crown was seeking the court's urgent lifting of the suppression orders that prevent the background of the terrorist responsible for the Auckland supermarket knife attack being made public.
At a press conference yesterday afternoon, Jacinda Ardern said, "I had prepared a timeline of everything that we know of this individual in his interaction with our agencies and the law. I have been advised that because of the suppression orders, I can't share that with you today but I do undertake to go away and find a way that I can share that with you."
What you need to know
Yesterday afternoon, a man was shot dead by police at the Countdown at west Auckland's LynnMall after attacking six shoppers with a knife. The victims are in hospital and three are in a critical condition.
At an early evening press conference, the prime minister said the incident was a terrorist attack by a "violent extremist" inspired by Isis ideology. The attacker was under 24-hour surveillance and was shot by the police who followed him to the supermarket as part of this surveillance.
The Herald reported that earlier in the year, the Crown had tried to prosecute the attacker under counterterrorism laws for allegedly planning a "lone wolf" knife attack. A judge ruled that preparing a terrorist attack was not in itself an offence under the legislation and the man was instead prosecuted on lesser charges. The judge said this was an "Achilles' heel" hindering the authorities' ability to stop such would-be attackers.
Justice minister Kris Faafoi admitted there was a gap in the law in April, and new legislation aimed at criminalising the planning and preparation of terror attacks had its first reading in parliament in May. It's currently still at select committee stage.
Last night, the Crown filed an urgent court action requesting the suppression orders that prevent the background of the attacker being made public.
Yesterday's numbers
The delta outbreak now totals 764 cases.
The number of people in hospital with Covid-19 has risen to 43.
89,073 vaccine doses were administered on Thursday.
---
Subscribe to The Bulletin to get all the day's key news stories in five minutes – delivered every weekday at 7.30am.