They want rich individuals and businesses to pay more, low earners to pay less, and everyone to get a minimum guaranteed income, writes Catherine McGregor in this excerpt from The Bulletin, The Spinoff's morning news round-up. To receive The Bulletin in full each weekday, sign up here.
An ambitious tax overhaul, or nothing but a pipe dream?
On Sunday the Green Party "march[ed] into Grey Lynn, the heart of New Zealand's capital-gains economy, to unveil its wealth and income policy," writes the NZ Herald's Thomas Coughlan. Let's leave aside the question of whether Covert Theatre, the venue for the announcement, is really located in Grey Lynn (it's in Ponsonby, I'd argue), and look instead at the policy's key elements, including a 45% tax rate on income over $180,000 and a 2.5% wealth tax on assets over $2m per individual – double the asset threshold of the Greens' 2020 wealth tax policy. The party would use the tax generated to introduce a $10,000 tax-free threshold – in line with Australia – and a universal guaranteed income of at least $385 per week for all New Zealanders. Labour will need the Greens to govern come October, which makes this wealth tax policy instantly "one of the defining topics of the election", says Coughlan, though Stuff's political editor Luke Malpass argues it's still "highly unlikely to ever see the light of day after the election, regardless of the result" (The Post, paywalled).
Key, Luxon defend personal wealth
The Greens will also introduce a 1.5% tax on trusts, with Coughlan reporting on Saturday that New Zealand's trusts collectively hold $309b in equity. "That's almost as much as New Zealand's entire GDP, which is about $390b this year," he writes. In a separate, paywalled analysis (seriously, does this guy sleep?), Coughlan says a major fish hook in the Greens' policy is hiking the corporate tax rate to 33% – 3 points higher than Australia's. "It's probably worth questioning whether such a hike is worth risking our tax competitiveness with Australia over, particularly when that country already offers so many other incentives to shift there." Meanwhile National leaders past and present have weighed in on wealth taxes. Sir John Key told Paula Bennett on her podcast that the IRD's wealth survey, which he was required to complete, was "pathetic" and unfairly targetted the super-wealthy. Christopher Luxon told Q&A's Jack Tame he made no apologies for owning seven houses, and denied they affected his opposition to a capital gains tax.
National takes aim at 'outdated' GMO ban
Opposition to genetically modified organisms (GMOs) has been the Greens' long standing policy. Now National has brought the debate back into the spotlight, announcing it will reverse the effective ban on GMOs that has been in place for the last 20 years. "There's only an economic upside," Luxon said. "It's hugely overdue and we are hauling New Zealand into the 21st century." Sir Peter Gluckman is one of many scientists who back the move. New Zealand has "lost the capacity to keep up at the leading edge of agriculture and environmental protection" because of the ban, he says. Labour's environment spokesperson David Parker says there's no evidence that being "GE free" has hurt New Zealand economically and changing the policy would do little to address the climate crisis. As for the Greens themselves, Marama Davidson says she supports "having a look" at GE while her fellow co-leader James Shaw says "it's not going to be an issue that we're fighting this campaign on".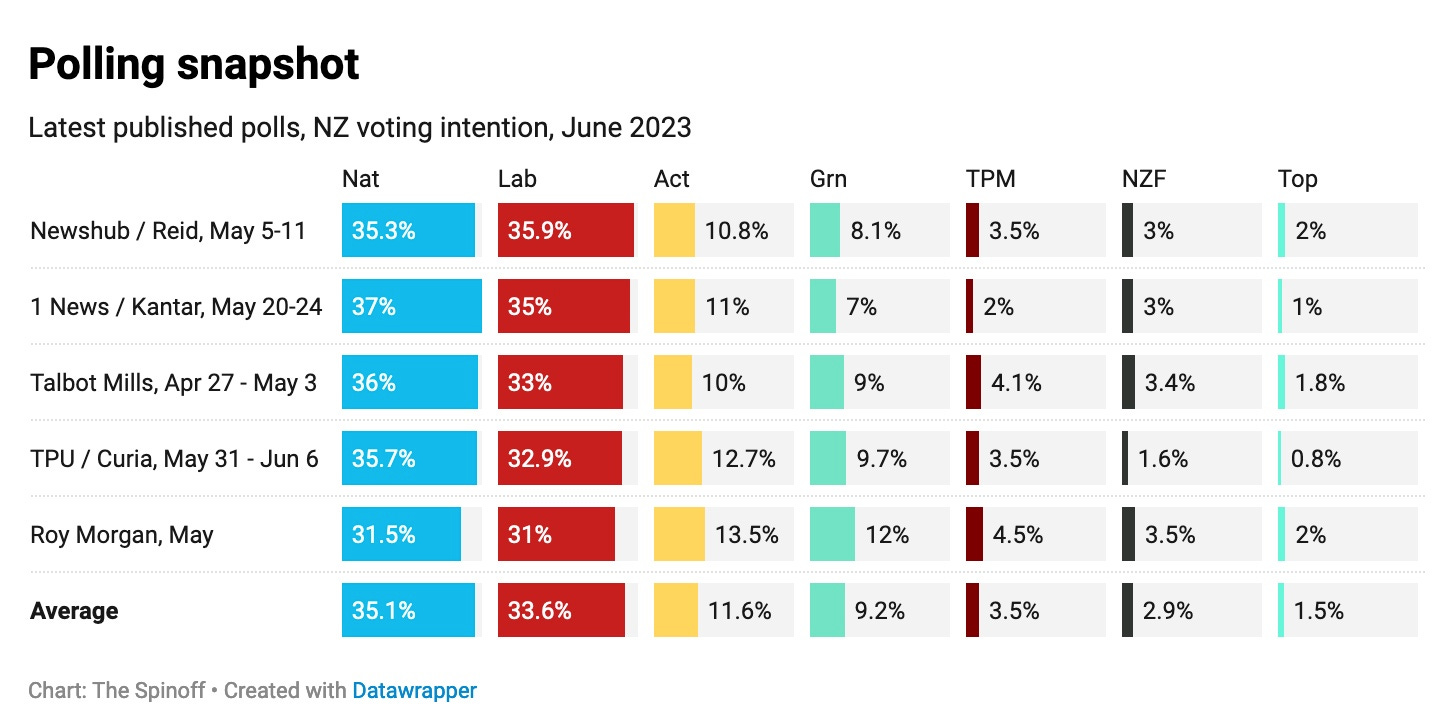 Greens gain in new poll
The raft of policy announcements come on the heels of a new Curia poll for the Taxpayer's Union showing support for a National-Act government remains largely unchanged since the same poll last month, with voting intentions still giving the two right-wing parties enough seats to assemble a majority. The only significant change is that support for the Greens has had a decent bump, to 9.7%. While the Curia poll is good news for National, analysis by The Spinoff's Toby Manhire finds that an average of the last five polls, from all polling companies, has the two potential coalitions in a dead heat.