For all The Spinoff's latest coverage of Covid-19 see here. Read Siouxsie Wiles's work here. New Zealand is currently in alert level four. The country is shut down, apart from essential services. For updated official government advice, see here.
The Spinoff's coverage of the Covid-19 outbreak is funded by The Spinoff Members. To support this work, join The Spinoff Members here.
7.00pm: The day in sum
Cyclone Harold has inflicted a terrible toll on Vanuatu and Fiji, at a time when those countries can least afford to have people in crowded evacuation centres.
The condition of UK PM Boris Johnson, who has Covid-19, has improved. He is now able to sit up and engage with his clinicians, though he remains in intensive care.
Here in New Zealand, the National Party continued to raise doubts about whether September's election should go ahead as scheduled, or whether it should be delayed.
The government announced driver licences and warrants of fitness that expired on or after January 1 of this year will be valid for up to six months from tomorrow.
The limit for Paywave contactless payments is being temporarily raised from $80 to $200 due to concerns about virus transmission through Eftpos and credit card transactions requiring a PIN number.
It was announced that 10,700 benefits were granted last week, the majority of those jobseeker benefits.
Prime minister Jacinda Ardern announced that from midnight tonight every returning New Zealander must undergo quarantine or "managed self-isolation in an approved facility" for 14 days.
She said a decision "on next steps" would be taken by cabinet on April 20, and more details on a possible shift to alert level three would be provided next week. She encouraged businesses to start thinking now about how they would operate under level three.
There were 29 new cases of Covid-19 in New Zealand, the lowest number since the lockdown began and the third drop in new cases in as many days.
An updated model by scientists at Te Pūnaha Matatini suggests New Zealand is on track to meet the most optimistic scenario they laid out before the lockdown began.
6.30pm: Today on The Spinoff
Matt Bartlett implored us to ignore the pandemic productivity guilt trap – it's bullshit anyway
Our Business is Boring podcast spoke to Pat MacFie of Manaaki, a free online service offering businesses support through Covid-19
Toby Manhire reported on new scientific modelling that shows an optimistic Covid-19 scenario for New Zealand
A bus driver talked to Leonie Hayden about his concerns about going to work in a lockdown
Newshub investigations reporter Michael Morrah argued that the government isn't being as transparent as its Ardern and Bloomfield briefings might suggest
We reported on how bulk testing of samples – also known as 'pool' testing – could be the way forward for coronavirus surveillance in New Zealand
Chris McDowall published his latest set of fascinating data visualisations showing the spread of Covid-19, and its containment
6.15pm: Data on testing by ethnicity and region released
The Ministry of Health has added two new tables to its ever-expanding collection of graphs and charts illustrating the distribution of Covid-19 testing and of positive cases in New Zealand
The first table shows testing by ethnicity

and the second, testing by DHB region.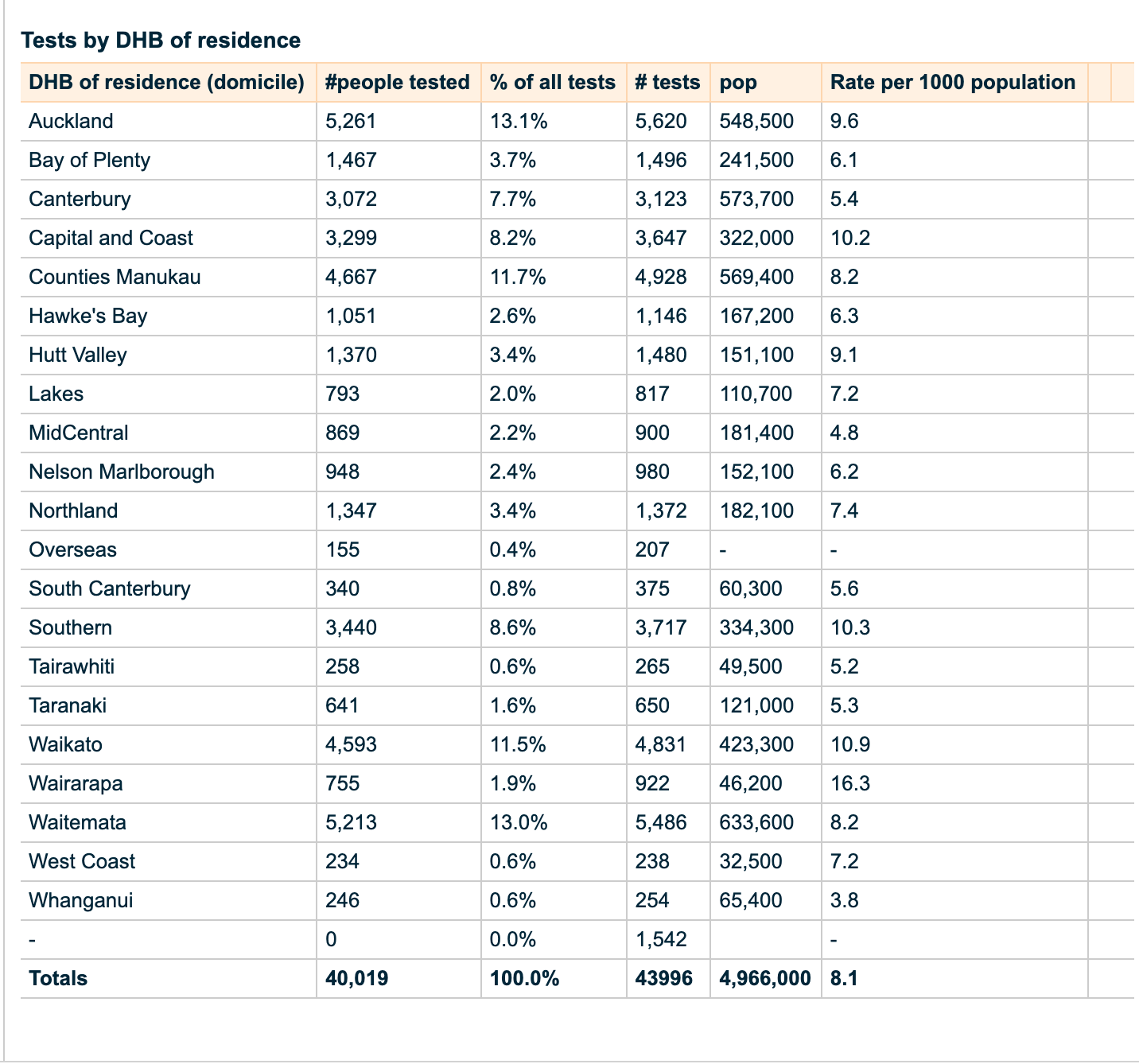 Both tables feature provisional data as of today, April 9. For a deeper dive into today's Covid-19 data, see Chris McDowall's latest collection of data visualisations and graphs.
5.40pm: Ardern in talks with other world leaders
Jacinda Ardern has been talking with her counterparts in other countries about the pandemic, she told RNZ Checkpoint. She said she'd spoken with Swedish prime minister Stefan Löfven last night, and was scheduled to talk with Singapore's leader Lee Hsien Loong this evening. Ardern said the conversations were about "sharing ideas, rather than the idea that what we're doing can just be replicated elsewhere, because our populations are different and our ways of life are different too." There was some curiosity about New Zealand's achievements, she said, but the interest went both ways. "We're all sharing right now, and that is as it should be."
Unlike most of the world, Sweden is following a controversial 'herd immunity' strategy which allows businesses, shops, restaurants and schools to remain open, with some physical distancing restrictions. The country has experienced a surge in cases over recent days, and yesterday recorded 96 deaths.
After initially achieving success in limiting the rate of infection through strict self-isolation and contact tracing measures, Singapore has also experienced a sharp rise in cases this week. Yesterday 142 new cases were recorded, the biggest daily increase since the outbreak began in January.
5.10pm: No media briefings for next two days
Terrible news for those of you who have structured your lockdown lives around the 1pm briefings: there will be none of that tomorrow and Saturday, with the information coming in the form of a media release rather than out of Ashley Bloomfield's mouth. The briefings will be back at 1pm on Sunday and Monday.
4.15pm: New modelling reveals impact of lockdown
An updated model by scientists at Te Pūnaha Matatini suggests New Zealand is on track to meet the most optimistic scenario they laid out before the lockdown began.
The scientists found that "while New Zealand case numbers remain low, tracing, testing, and rapid case isolation, combined with population-wide control methods, offer an opportunity for the country to contain and eliminate Covid-19."
Read more on The Spinoff here.
2.35pm: DHBs issue reminder that emergency departments remain open
A group of northern region DHBs are reminding the public that emergency departments (EDs) remain open during lockdown, including through the Easter break. "We are concerned people may not be coming in for the care when they need it," said Dr Dale Bramley, Waitemata DHB CEO. While advice and care is available from GPs, urgent care clinics and the Healthline service, "for emergencies, people shouldn't hesitate to call 111 or present at any of our emergency departments," he said.
"This message is particularly important for our older people, who often don't like to make a fuss," he said, adding that ED staff were using all appropriate PPE and following international best practice for infection prevention.
Patient volumes have fallen by up to 50% at some EDs over recent weeks.
2.00pm: Preparing for alert level three
Ardern has announced this afternoon that the decision on moving out of lockdown and to alert level three would be taken on April 20, a couple of days before the end of the four-week. More details on what alert level three requirements would involve are to be provided next week.
She added, however, that businesses should start making preparations now, by focusing on three areas.
"Make sure you look at whether or not you can work with social distancing. Can we contact-trace all of the customers or employees that you work with? And do you or will you need PPE [personal protective equipment]?"
A reminder, here's what alert level three looks like, according to the current official advice:
Level 3 Restrict

Heightened risk that disease is not contained.

Risk assessment

Community transmission occurring OR
Multiple clusters break out.

Range of measures

These can all be applied locally or nationally:
travel in areas with clusters or community transmission limited

affected educational facilities closed

mass gatherings cancelled

public venues closed (eg libraries, museums, cinemas, food courts, gyms, pools, amusement parks)

alternative ways of working required and some non-essential businesses should close

non face-to-face primary care consultations

non acute (elective) services and procedures in hospitals deferred and healthcare staff reprioritised.
1.40pm: Ardern announces mandatory quarantine, lockdown decision on April 20
From midnight tonight every returning New Zealander must undergo quarantine or "managed self-isolation in an approved facility" for 14 days, Jacinda Ardern has announced. That would be a "significant undertaking", she said, noting nearly 40,000 had returned home since the border was closed to foreign nationals on March 20.
A network of up to 18 hotels will be used, with one or two devoted to those "under strict quarantine conditions", that is, those who are symptomatic or being tested.
Scaled up and faster use of contact tracing would also be introduced. She would be discussing with the Singaporean prime minister, Lee Hsien Loong, their use of tracing technology, later today.
She also said testing needed to expand further, with surveillance testing to come into play "to ensure we have greater levels of certainty around the decline of the virus's spread".
For more on contact tracing see here; for more on surveillance testing see here.
Ardern said more details on the shift to alert level three would be provided next week. A decision "on next steps" would be taken by cabinet on April 20. That meant "if we are ready to move to alert level three, business will have two days to implement arrangements".
She reiterated there was no prospect of moving out of lockdown sooner. "If we move too early we will go backwards."
She urged businesses to "prepare for what every alert level means for you".
Addressing the state of play halfway through the lockdown, the prime minister commended the "wall of defence" from the New Zealand public. "In the face of the greatest threat to human health that we have faced in over a century, Kiwis have quietly and collectively implemented a nationwide wall of defence. You are breaking the chain of transmission, and you did it for each other."
While the government has used "powers that come with being in a national emergency … you have the greatest power of all," she said. "You have saved lives".
She said modelling on the eve of the lockdown suggested New Zealand was on a similar trajectory to potentially Italy or even Spain, and that our 205 cases on March 25 could have grown to over 10,000 without strict actions. New Zealand had avoided, she said, the "horrific scenes seen abroad".
She added: "We are turning a corner and your commitment means our plan is working, but to succeed we need it to keep working. Success does not mean we change the course. Removing restrictions now would allow the virus to spread rapidly once again, and we would be back to the starting line in two weeks."
Ardern said the stepping up of police presence would continue. "We cannot let the selfish actions of a few set us back, and we won't."
Asked about shifting the election back to November, as promoted by her deputy prime minister, Winston Peters, earlier today, Ardern said, "at the moment we're sticking with the date we have", but "it is too soon to make a determination … It is something that is under review". She said she was in touch with Simon Bridges on the question.
Pressed on whether there could be adjustments on tangihanga in changes to essential services, Ardern said there couldn't "be any room" for opening up "some parts of our lives where contact is built in", such as tangi. "I know how horrific that is for tangi … But it's the only way we can protect each other."
1.10pm: 29 new cases of Covid-19 in New Zealand, active cases decline
There are 29 new cases of Covid-19 in New Zealand, the director general of health, Ashley Bloomfield, has just announced. There are 35 further recovered cases reported, meaning the net change of active cases is six fewer.
This means the 15 days since lockdown look like this: 78, 85, 83, 63, 76, 58, 61, 89, 71, 82, 89, 67, 54, 50, and today a low 29.
Here are those numbers expressed in a Chris McDowall chart (more to come later today):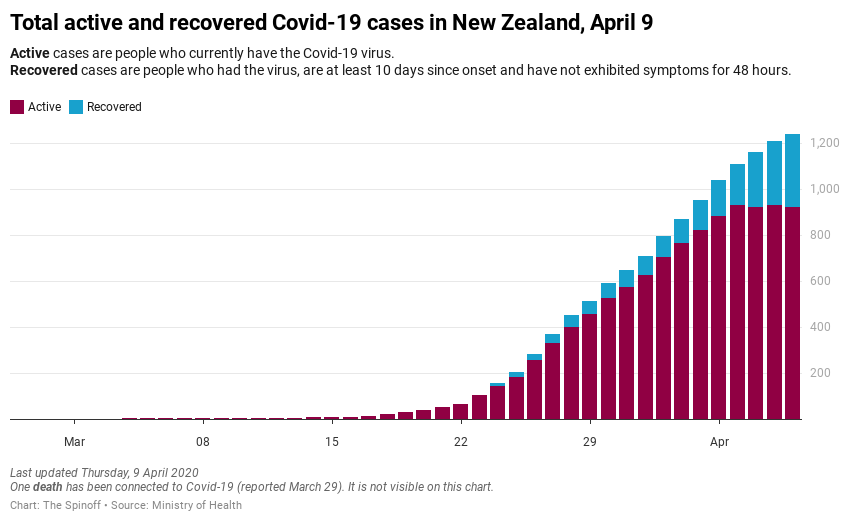 The combined overall number of cases is 1,239. There are 14 people in hospital, with four in ICU.
A reported 41% of cases have an overseas link, with 44% linked to known cases, and 2% confirmed community transmission. That leaves 13% still under investigation.
A total of 3,990 tests were processed yesterday.
On the main clusters, Marist College in Auckland (87 people), Matamata (67) and Bluff (87), Bloomfield said they were "confident now that we are on top of those clusters and any additional cases are largely within bubbles within each of those clusters".
Bloomfield said the government has distributed over a million doses of the flu vaccines. They are in GPs, pharmacies and DHBs. Bloomfield said there were "good supplies" in every region, and there are sufficient vaccines for all priority groups, who are encouraged to ring their GP or local pharmacy to make a time to be vaccinated.
Bloomfield is appearing at his daily media briefing with prime minister Jacinda Ardern at the Beehive.
12.40pm: Delivereat removes questionable marketing schemes
An online directory designed to support New Zealand businesses delivering essential goods and services during lockdown has removed listings for multi-level marketing schemes from its platform after being contacted by The Spinoff. Delivereat began as a lockdown directory of food businesses but has widened out to include MBIE-approved pet supplies, hygiene products and services such as online Pilates classes. This morning, a Twitter user noticed that Isagenix, a US-founded multi-level marketing (MLM) scheme that sells medically questionable weight-loss supplements, was listed on the site under the "non-perishables" category, as was Isa Energy. Both listings linked to the main Isagenix website.
The delivereat website is great, but disappointed to see it now lists MLM companies Arbonne & Isagenix (IsaEnergy) which are definitely not independent kiwi-owned businesses 😒 https://t.co/hmS5GwGAMr pic.twitter.com/lWXyLl092N

— Ellen Rykers (@ellerykr) April 8, 2020
Also listed under the non-perishables category was controversial cosmetics MLM Arbonne, which linked to a consultant's website. On being contacted by The Spinoff, Delivereat founder Denym Bird said he was unaware of the listings but they would be removed. He said businesses submit their details through an online form and select their own category, but are approved before being added to the site.
After media coverage of Delivereat earlier in the week, he and business partner Alex Hamilton had been flooded with applications, said Bird. "It's difficult for us to verify and investigate every single listing that comes through, especially as we are doing this as a part-time non-profit initiative outside of our full-time commitments," said Bird in a follow-up email. "We've removed the two listings you mentioned that were MLMs and we'll be taking a lot more caution in the future to ensure that they (and any others) don't get through the cracks."
11.45am: Schools may not reopen straight away after level 4
Parents should be prepared for the prospect of schools being closed longer than the minimum 4 week lockdown period, education minister Chris Hipkins has told the Zoom select committee this morning. It was wrong to assume all schools and early learning services would reopen as soon as the country went back down to level 3, he said, and that reopening schools is "likely going to be a progressive warming up, rather than a big bang." Among the many considerations to be made are how to keep kids safe and implement social distancing measures once they return to school, and how to manage the many school staff considered at high risk from Covid-19.
Hipkins said the Ministry of Education is currently working on ensuring as many school-aged children as possible had access to the internet to continue learning, and are purchasing and sending out modems (and instructions on how to get them to work) to households who need them. 2,000 modems were set to be sent out today, he said. Additionally, there are 20,000 hard packs of educational material being sent out this week, with 60,000 going out next week. The ministry is looking at being able to deliver at least half a million hard packs in the future. Two TV channels are also being launched next Wednesday, one in English and one in Māori, to support students across a range of age groups.
Green Party coleader Marama Davidson asked Hipkins to clarify what the ministry's expectations of parents were at this time. "We don't expect every parent to suddenly become an expert in teaching overnight," said Hipkins, adding that the materials being sent out by the government were intended to supplement learning directed by the children's schools. He urged employers of parents with kids at home to "be reasonable of your expectations with productivity."
On the topic of funding, Hipkins confirmed state schools will continue to get all of the state funding they receive, but that "revenue from international education has obviously been disrupted, with some schools more exposed than others." He said the ministry would work through that situation to see what additional support could be provided, but that schools would have to budget for a much smaller international cohort than they're used to having.
11.15am: March spending plummets
---
Subscribe to The Bulletin to get all the day's key news stories in five minutes – delivered every weekday at 7.30am.