For all The Spinoff's latest coverage of Covid-19 see here. Read Siouxsie Wiles's work here. New Zealand is currently in alert level three – read The Spinoff's giant explainer about what that means here. For official government advice, see here.
The Spinoff's coverage of the Covid-19 outbreak is funded by The Spinoff Members. To support this work, join The Spinoff Members here.
On the afternoon shift: Hayden Donnell and Alice Neville
8.08pm: Six Waitākere patients now in isolation
Newshub has reported that six elderly patients who were in non-Covid-19 wards at Auckland's Waitākere Hospital, where three nurses have tested positive for the virus, are now being treated in isolation on the presumption they have the virus. The news comes in the wake of revelations that no protocols were in place to prevent staff working with Covid-19 patients from also working with other patients, which has led to 57 staff being stood down. Waitematā DHB told Newshub it has apologised to families of patients on the ward and is planning to change its rosters for nursing staff.
*An earlier version of the Newshub story said the six patients were being treated as probable cases. The six patients are being treated on the presumption of having the virus but are "close contacts" and not probable cases.
7.15pm: The day in review
PM Jacinda Ardern announced that details of what alert level two will look like will be revealed on Thursday, and a decision on when the shift will happen is coming next Monday.
A high court ruling allowed a man, who had recently flown in from London, to leave managed isolation to visit his dying father, and Ardern said the government would learn from the judgement.
It was revealed that Ardern will be making an appearance at the Australian national cabinet tomorrow, where the possibility of a trans-Tasman bubble will be discussed.
Director general of health Ashley Bloomfield announced that for the first time in seven weeks, there were no new cases of Covid-19 in New Zealand today. One probable case was confirmed. There were also no deaths.
Auckland's Marist College, the site of the country's second-largest Covid-19 cluster, announced all students and staff were being given the opportunity to be tested for Covid-19 regardless of their symptoms.
Ardern hit back at a Wall Street Journal report that claimed Australia was better positioned for a more swift economic recovery from the Covid-19 pandemic than New Zealand.
The prime minister was grilled on safety practices at Waitākere Hospital following an outbreak among nurses there.
6.55pm: Positive signs that Pacific Islands are containing Covid-19
With only four active cases remaining of a total of 18, Fiji expects to be able to declare it is free of Covid-19 in 12 days' time, according to the government. The country has not recorded any deaths.
As the sun rises over Tavarua, we are pleased to announce, that we now have only 4 active #COVID19 cases left in Fiji of 18 confirmed cases, and zero deaths. We expect to be able to declare in 12 days that #Fiji is COVID-19 free and end the State of Natural Disaster.#TeamFiji pic.twitter.com/SShJIKP6kc

— Fiji Consulate & Trade Commission – Australia & NZ (@fijiconsulate) May 3, 2020
In Tonga, meanwhile, where no cases have been recorded, emergency restrictions are being eased. Samoa, which is also Covid-free, announced church services could resume and schools restart at the weekend.
New Caledonia, which has had 18 cases but none for a month, has also eased restrictions, reports RNZ, and Papua New Guinea, which has recorded eight cases, has lifted its curfew in the capital of Port Moresby.
6.40pm: NZ should consider extra measures, says public health professor
Responding to today's milestone zero cases announcement, Michael Baker, professor of public health at the University of Otago, Wellington, said complacency was the enemy. "The threat of Covid-19 has been consistently under-estimated across the globe, with tragic consequences. Outbreaks are possible at any time."
Baker said in planning a move to alert level two, New Zealand should consider additional measures to safeguard the country, such as "mass-masking" in enclosed public spaces and a contact-tracing app or card, as well as strong measures to protect vulnerable populations.
6.30pm: On The Spinoff today
New Zealand marked the milestone of zero new cases today. Here are all the details (plus a cool Toby Morris gif), here's Dr Siouxsie Wiles's message to us, and here's the day's data visualisation.
Dr Siouxsie Wiles raises concerns about a "church" pushing bleach as a miracle cure for Covid-19.
Economic commentator Michael Reddell says an outward focus is key to rebuilding a shattered economy in a post-Covid world.
Tourism operators in Punakaiki contemplate the prospect of a town without tourists.
Covid-19 has demonstrated the importance of a robust research sector, but the future is not looking bright.
The government's lack of transparency around decision-making concerns Jenée Tibshraeny of interest.co.nz.
Kiwibank recently received the Rainbow Tick – its chief risk officer explains why that's important.
If you need a laugh, today's 48Hours film pick, Icy Cold Killer, will deliver.
Meet Devoney Scarfe, the baker battling lockdown bleakness through the medium of incredible pies.
5.35pm: Government's Māori Covid-19 response not up to scratch, says minister
Associate minister of health Peeni Henare has told Māori TV's Te Ao that the government has a lot more work to do to improve its Covid-19 response for Māori, saying he and others in parliament were taking on the challenge. "It needs to change urgently, not just because of a Covid-19 response but as we look forward to what a post-Covid world might look like," said Henare, saying inequity in the health system was an ongoing problem. "We've made it a big challenge to find that equity and to be completely honest, we aren't there."
The $56 million Māori response package, announced on March 22, has supported hard-to-reach and vulnerable whānau during the Covid-19 pandemic, including those who live in remote areas, kaumātua and the homeless, reports Te Ao. The majority of the package, $45 million, went to support Whānau Ora and a tailored health response.
5.20pm: 18 lockdown exemptions granted for dying relatives, says PM
Responding to questions at her post-cabinet briefing about the high court ruling that allowed a man to visit his dying father (see 3.35pm update), Jacinda Ardern said 283 requests for exemptions had been made, 24 on the grounds of a relative dying. Of those 24, 18 had been granted. Ardern said the Ministry of Health would need to make sure it learned from the judgement, particularly around concerns that the initial rejection of the request was an automated response.
4.48pm: What will be allowed under alert level two?
Jacinda Ardern has confirmed that cabinet discussed the details of alert level two today, and that those will be publicly revealed on Thursday. But what might be the general shape of what is and isn't allowed under alert level two, if and when we get there? Here's the guidance as provided by the prime minister's office when alert level three details were announced on April 16:
Physical distancing of one metre outside home (including on public transport).
Gatherings of up to 100 people indoors and 500 outdoors allowed while maintaining physical distancing and contact tracing requirements.
Sport and recreation activities are allowed if conditions on gatherings are met, physical distancing is followed and travel is local.
Public venues can open but must comply with conditions on gatherings, and undertake public health measures.
Health services operate as normally as possible.
Most businesses open, and business premises can be open for staff and customers with appropriate measures in place. Alternative ways of working encouraged (eg remote working, shift-based working, physical distancing, staggering meal breaks, flexible leave).
Schools and Early Childhood Education centres open, with distance learning available for those unable to attend school (e.g. self-isolating).
People advised to avoid non-essential inter-regional travel.
People at high risk of severe illness (older people and those with existing medical conditions) are encouraged to stay at home where possible, and take additional precautions when leaving home. They may choose to work.
4.05pm: Level two details coming on Thursday, decision coming next Monday
Prime minister Jacinda Ardern says cabinet will decide next Monday whether New Zealand will move to alert level two, as this represents two weeks since the move from alert level four to level three, which is the virus' period of transmission – its two-week life cycle. Speaking at her post-cabinet press conference today, Ardern said New Zealand could take heart that there were no new cases today, but her message remained the same – stay the course. "We cannot afford to squander the good work we've done to date when the end goal is within reach."
Cabinet discussed the shape of alert level two earlier today. Ardern said that details would be revealed on Thursday, "once the guidance has been fully written up and we can clearly communicate that to the public and businesses. This will provide clarity and certainty and give people time to prepare".
She added: "Please note, though, as with the previous process, no decision has been made on moving out of alert level three at this stage. You will receive clear guidance and signalling before any such move."
Referencing the latest Google tracking data that showed New Zealand had maintained consistent levels of low movement under lockdown, Ardern said the ongoing commitment to physical distancing and staying at home had no doubt been a big contributor to the rapid drop in case numbers. Noting the country had done better than others on this front, she said, "Your efforts have put us at the front of the pack and everyone should feel very proud of that." She added, however, that there had been an uptick in visits to parks and so forth in the last week, and emphasised the need to maintain physical distancing.
Ardern confirmed she would take part in Australia's cabinet meeting tomorrow, with discussions "including the creation of a trans-Tasman travel bubble". She said "such a meeting is without precedent" and reflected "the mutual importance of our two countries and economies. Both our countries' strong record on fighting the virus has put us in the enviable position of being able to plan the next stage in our economic rebuild and to include trans-Tasman travel and engagement in our strategy."
Pressed on timing for a possible trans-Tasman bubble, Ardern offered only: "I wouldn't say that it would be in the very, very near short-term", but that New Zealand and Australia were looking at similar timelines. She confirmed the trans-Tasman bubble idea would mean there was no requirement either way for the fortnight quarantine period.
Ardern said it was hoped the Fieldays agricultural events, which contribute $183 million to the Waikato economy alone, could go ahead as normal later in the year, but a virtual event would also be held in mid-June that would bring hundreds of exhibitors together online.
Foreshadowing finance minister Grant Robertson's pre-budget speech this Thursday, Ardern emphasised the government was not about to splash the cash. "With decreased revenue and the government taking on increased debt, we are being very cautious to ensure every dollar helps create jobs and sets us on a path to our country rebuilding better." Budget day is May 14.
Ardern also gave an update of breaches of the Civil Defence Emergency Management Act or Health Act under alert level three, saying that as of 6pm Sunday, there had been 593 breaches, 154 prosecutions, 400 warnings and 39 youth referrals.
4.00pm: Watch PM gives post-cabinet Covid-19 update
Prime minister Jacinda Ardern is about to give her post-cabinet update. Watch here, and stay tuned for live updates.
3.35pm: High court allows man in managed isolation to visit dying father
A man who had recently flown in from London has been allowed to visit his dying father after a high court judge overturned lockdown rules.
According to the Herald's report on the ruling, Oliver Christiansen arrived in Auckland on April 23, believing his father, who was terminally ill with brain cancer and in palliative care at home, still had weeks to live, so he would have a chance to say goodbye to him once his 14-day period of mandatory managed isolation had been completed. The father's health took a turn for the worse, however, and Christiansen was advised he was likely to die within days. Christiansen, who had no Covid-19-like symptoms, applied to health authorities for dispensation to visit him, but was denied, so decided to take his case to the High Court in Auckland to have his situation reviewed by a judge.
Justice Tracey Walker heard the case on Friday and allowed Christiansen to visit his father if he travelled by private car and wore full PPE for the visit. Stuff reports he was able to spend just over 24 hours with his father before he died. "In this particular case, there is a very strong argument, in my judgment, that the permission for Mr Christiansen to visit his dying father was not considered on the correct legal grounds and did not take account of relevant mandatory considerations," she said in her ruling, released today.
2.30pm: A word from Siouxsie on reaching zero cases
In the latest 60 Seconds with Siouxsie, Dr Siouxsie Wiles says we should be very proud of ourselves, but we've got a way to go. Watch her message below.
1.45pm: Today's active and recovered graph
Here's today's graph, courtesy of Chris McDowall. There are 191 active cases and 1,276 recovered. See McDowall's data visualisations for yesterday's numbers here, and check back later this afternoon for today's full suite of graphs.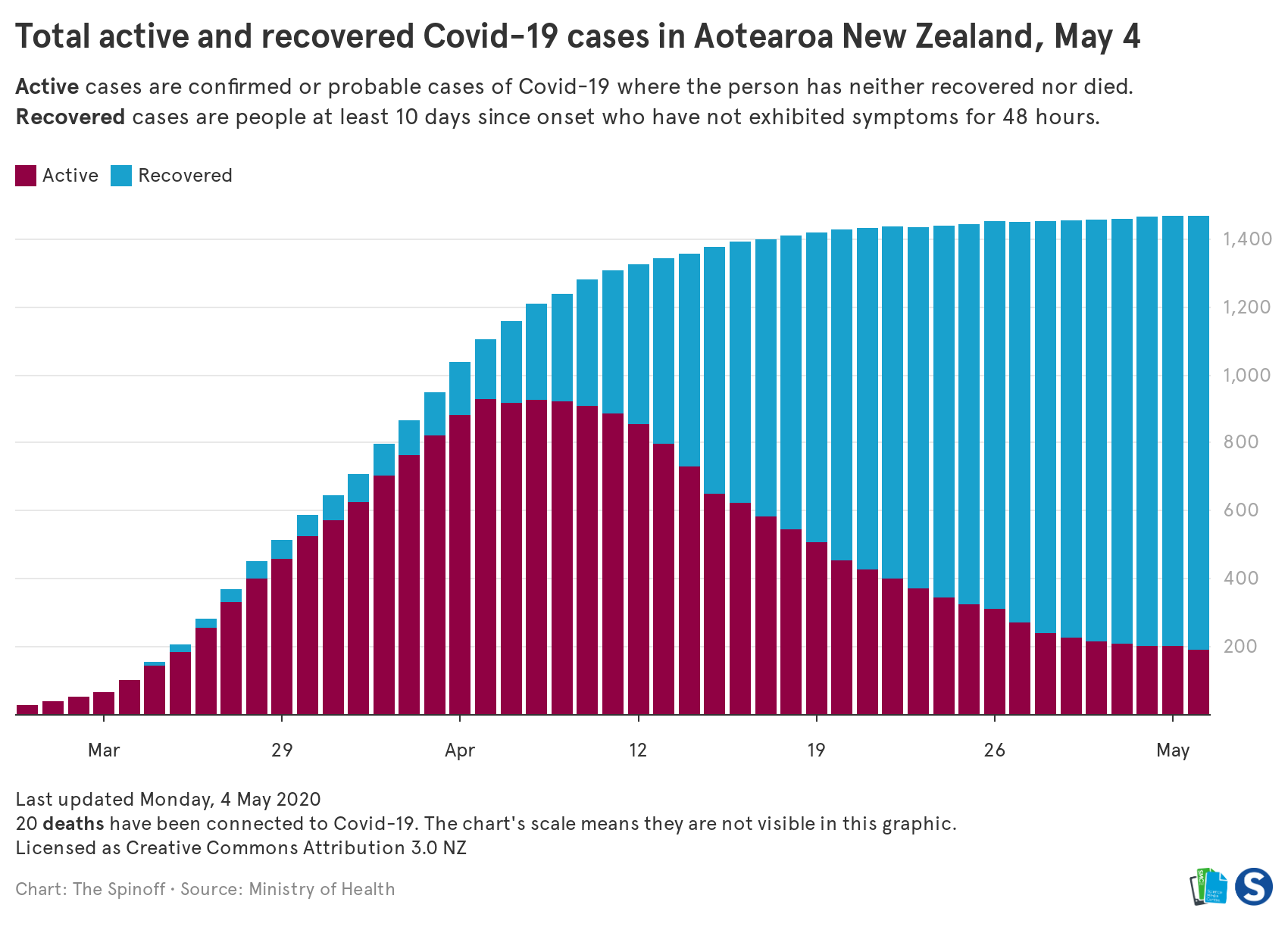 1.30pm: Ardern to appear at Australian cabinet tomorrow
Australian prime minister Scott Morrison has invited his New Zealand counterpart to participate in Australia's national cabinet tomorrow, according to reports.
Breaking: Prime Minister @ScottMorrisonMP has invited New Zealand Prime Minister @jacindaardern to participate in National Cabinet tomorrow. She accepted ✅ #7NEWS #auspol

— Jennifer Bechwati (@jenbechwati) May 4, 2020
The pair are expected to discuss a mooted "trans-Tasman bubble" that would allow New Zealanders and Australians to freely travel between countries, reports Stuff.
Both countries have had success in containing the spread of the virus, prompting enthusiasm, especially from deputy prime minister Winston Peters, around the idea of establishing a trans-Tasman bubble.
Spikes continue in Australia, however. Overnight the state of Victoria recorded 22 new cases, with 19 of those at a Melbourne meat-processing plant.
At today's official Covid-19 update, director general of health Ashley Bloomfield said he was in touch with his counterparts in Australia about the possibility of establishing a trans-Tasman bubble. He said he would work with them on establishing an agreed set of "public health pillars" to ensure the bubble could be established safely. "We're trying to go very much in tandem with the range of moves we've made, whether it was around the border, around case definitions, around sharing information. I'm confident we could continue that to support a trans-Tasman bubble arrangement if that's what the governments agree."
1.00pm: No new cases of Covid-19 today, no deaths
Dr Ashley Bloomfield has announced that for the first time since March 16, there are no new cases of Covid-19 today. One probable case has been reclassified as confirmed following a positive test in the past few days, so the total number of cases remain at 1,487, said Bloomfield, 1,137 of those confirmed. There have been no further deaths.
Bloomfield said 2,473 tests were completed yesterday, a lower number than usual on account of it being a Sunday, which brings the total to date to 52,696. Ten further cases have recovered since yesterday, bringing the total to 1,276, which is 86% of all confirmed and probable cases. There are seven people in hospital with Covid-19. None are in ICU.
There are still 16 significant clusters of Covid-19 around the country, though three of those are considered closed because 28 days have passed without a new case linked to a reported case.In the days since New Zealand went into alert level four, the new cases each day have numbered as follows: 78, 85, 83, 63, 76, 58, 61, 89, 71, 82, 89, 67, 54, 50, 29, 44, 29, 18, 19, 17, 20, 15, 8, 13, 9, 9, 5, 6, 3, 5, 5, 9, 5, 3, 2, 3, 3, 6, 2, and today, 0.
Bloomfield said the results were encouraging, but warned against taking them as a sign that Covid-19 has been eliminated. He said health officials would expect to see later this week whether any community transmission has emerged after New Zealand's shift to alert level three.
"We cannot afford to squander all the hard work and effort of the past weeks. We did see in the weekend that it can be easy to start slackening off, and we need to maintain discipline and sustain the advantage we have fought so hard for."
Bloomfield said New Zealand needed to stay at alert level three despite the zero increase in new cases, adding that the lockdown restrictions were needed to give health officials confidence there was no undetected community transmission of the virus. "It's clear from looking at other countries that there is a very long tail and what we're trying to do now is make sure we are finding any potential additional cases that are associated with current cases or clusters."
He acknowledged that the zero increase was "cause for celebration". "I think it's important that we reflect that it's symbolic of the effort everyone's put in. So I don't want to downplay that, but once again we want to be continuing vigilance. It is important we all collectively acknowledge this is the first day we had no new cases and we want to keep it that way."
Cases still under investigation
There are still several cases of Covid-19 in New Zealand without a clear link to existing clusters or overseas travel, said Bloomfield, but health officials had conducted widespread testing of the close contacts of those cases and hadn't found any evidence the virus was spreading. "But we want to make sure that we're covering off that long tail."
One of the cases under investigation is in the Nelson/Marlborough region and one had been found through surveillance testing of staff at Auckland Airport, said Bloomfield. In both instances, there was an explanation related to overseas travel, but it wasn't certain that was the source of the infection, he said.
Bloomfield said community testing of asymptomatic people in environments such as supermarkets would continue this week. "It's really later this week that we'll be confident if we are or are not seeing if new cases are popping up in the community."
Concerns were raised about a person in Nelson testing positive for Covid-19 after travelling to the Cook Islands, which still doesn't have a recorded case of the virus. Bloomfield said it was more likely the person had contracted their infection from another source. "What's not clear is whether that infection might have happened as part of the travel back from the Cooks, but whether it happened in another setting after that person arrived back. I think that's more likely so I don't think it puts in jeopardy anything that might have happened in the Cooks," he said.
Bloomfield grilled on Waitākere Hospital infections
Bloomfield dodged questions on whether Waitākere Hospital should have allowed staff to work in both Covid-19 wards and other parts of the hospital. Three staff at the hospital have tested positive for the virus, and 57 others who had contact with those cases have been stood down.
Newsroom published a report last night alleging nurses' health and safety concerns were ignored in the lead-up to the outbreak. "I would rely on the advice of the clinicians, remembering that staff inside our hospitals day in and day out, particularly in the intensive care units, are working with people who have a whole range of infections," Bloomfield said. "I would defer to those clinicians for their advice."
On a move to level two, and flu vaccines
Bloomfield said he didn't want to pre-empt cabinet's decision, but from a health perspective, any move to level two would be based on both low case numbers and knowing where those cases came from. He said he wasn't nervous about the prospect of domestic travel and retail being reopened under alert level two. The important thing was maintaining physical distancing and good hygiene practices whatever the setting, he said. "The concern would be if we are relaxing the things we've started to do more routinely," he said. "The risk lies in the way that we go about those activities."
---
Subscribe to Rec Room a weekly newsletter delivering The Spinoff's latest videos, podcasts and other recommendations straight to your inbox.